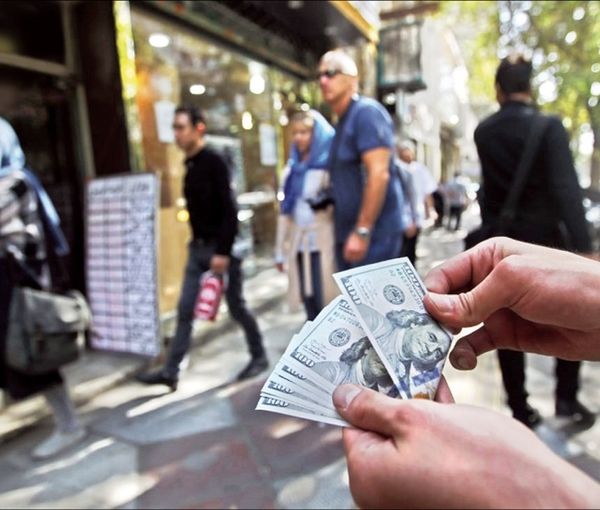 How Iran's Government Benefits From Its Falling Currency
Iran's national currency has lost 16% of its value during the past week, as the government prepares to submit next year's budget bill to the parliament soon.
Iranian government's annual budgets have faced annual deficits of at least 30 percent since 2019, when the United States imposed sanctions on the country. During this time, the government had to borrow more heavily from domestic banks, especially the Central Bank, and other financial entities to fill the budget gap.
Another major government revenue source is profits it makes when the rial loses value against major currencies, enabling the government to sell its foreign currencies at higher prices in open markets and pay salaries and other obligations.
According to the International Monetary Fund's latest report, released on October 31, thanks to higher oil exports and prices, Iran's total exports is expected to increase by 41% year-on-year to above $121 billion in 2022. For comparison, the figure was only $54 billion in 2020.
Of course, this figure is an estimate, since official information about how much oil Iran exports and how much foreign currency it actually receives remain state secrets, due to US sanctions.
On the other hand, Iran's trade turnover balance is expected to stand at plus $35 billion this year, or three times more than in 2021. This value is equal to 81% of Iranian government's budget, based on the current USD rate in Iran (1USD:367,500 rials).
The Iranian rial has lost about 47% of its value since July 2021, when the new government, headed by Ebrahim Raisi took office.
Iranian tanker loading oil in the South Pars maritime hydrocarbon fields, on March 22, 2022
Regarding the fact that Iranian government's oil exports during the current fiscal year (started March 21) is estimated to be above 1 million barrels per day (mb/d) or 40% more than last year, with higher global oil prices, its revenues have increased significantly.
Therefore, the government should have enough foreign currency reserves to prevent the de facto devaluation of the rial.
Iran's oil exports had dropped to around 200,000 barrels a day in 2019-2020 during the Trump Administration which was hawkish in sanctions enforcement. As soon as Joe Biden was elected president, Iran began shipping more oil to China and the daily exports quadrupled by 2022.
Figures published by the central bank show government borrowing from this bank has not increased since July 2021, despite concerns by economists that more money needs to be printed to finance government operations.
However, central bank figures also show that liquidity has increased by 12% during this period, a fact that indicates the government continues printing money in huge amounts, most probably due to selling of foreign currencies at higher rates to the banks and exchange markets.
IMF predicted that Iran's broad money growth to stand at 47.5% in 2022, 8.5% more than 2021.
This leaves many questions unanswered. If Iran has tripled its exports in two years, why the currency is falling and why It has such high budget deficits. Just this week, the government announced that Supreme Leader Ali Khamenei has authorized the use of more foreign currency reserves to bridge the deficit.
A Supreme Accounting Office report covering the period March 21- May 20 showed in July that except tax revenues, all other major sources of income grossly underperformed.
The government realized just 37 percent of the projected budget revenues in this period, but the most notable number in the report was how little oil income was collected. While 79 percent of tax revenues were realized, only 15 percent of oil export income entered government coffers. While barter of oil for goods is one possible explanation, rosy predictions about cash in government pockets might be misleading.
This remains another unanswered question, that outsiders like the IMF may never be able to figure out.