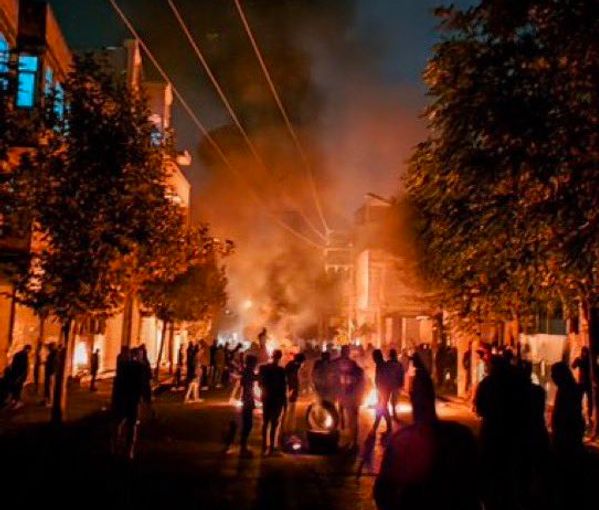 Iranians Hold Nationwide Protests On 40th Day After Bloody Friday
Iranians in several cities as well as the capital Tehran held protest rallies Wednesday to mark the 40th day since the Bloody Friday in Zahedan, when security forces killed about 100 protesters. 
People in several Tehran neighborhoods poured into streets and chanted slogans against the Supreme Leader Ali Khamenei while women unveiled in public as a gesture of solidarity with antigovernment protests, which have been raging for the past 54 days since 22-year-old Mahsa Amini was killed by the country's hijab, or the so-called morality police. 
Wednesday's protests were in the memory of those killed during the regime's crackdown on protesters 40 days ago. The 40th day after one's death carries immense significance in the Iranian culture. The Bloody Friday in Zahedan, the provincial capital of Sistan and Baluchestan took place September 30, when security forces killed at least 93 people, and injured many more. Zahedan is one of the few Sunni-majority cities in predominantly Shiite Iran.
People prefer to protest after darkness falls primarily to avoid easy identification and targeting by government agents, while also they can about their business during the day.
According to videos posted on social media, several neighborhoods in Tehran as well as Mashhad in northeastern Iran, Shiraz in the southern Fars province, Esfahan (Isfahan) in central Iran, Rasht and Kianshahr in northern province of Gilan, and BandarAbbas in Hormozgan province on the southern Persian Gulf coast, and Kerman were scenes of demonstrations in support of the protesters in Sistan and Baluchestan province. 
Moreover, people in the Kurdish majority cities of Mahabad, Saqqezz – the birthplace of Mahsa Amini – Kermanshah, Shahrekord, and Sanandaj – the provincial capital of Iran's Kordestan province – also held rallies against the clerical regime. Situation was also tense in several Turkish-majority cities such as Ardabil and Bukan and Mahabad in West Azarbaijan province. 
Clashes have been reported in some western cities such as Marivan, where people are mourning the death of Nasrin Ghaderi -- a PhD candidate in philosophy who died November 6 after being beaten by security forces with batons during protests in Tehran a day earlier. 
Also on Wednesday, university students across the country and people on streets held ceremonies and performances for Khodanour Lajei, one of those killed on Bloody Friday in Zahedan. A photo of him that was taken about three months ago when he was arrested by security forces has become one of the symbolic pictures that show the atrocities of the Islamic Republic's security agents. 
Holding rallies on the 40th day of people died during the Islamic Republic's crackdown on protesters is reminiscent of a similar turn of events 44 years ago, during the revolution against the monarchy that culminated in the overthrow of the Pahlavi dynasty under Shah Mohammad Reza Pahlavi, and the establishment of the Islamic Republic in 1979. Marking the 40th day for people who were killed during the revolution turned into fresh protests that fueled the movement.
The US-based Iranian Human Rights Activists News Agency (HRANA) reported on Wednesday that about 15,000 people have been detained in Iran, adding that at least 328 people, including 50 minors, were also killed.