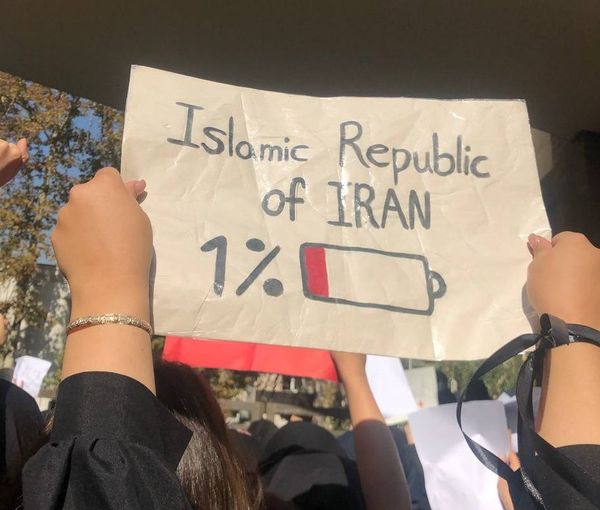 Iran's Security Forces Threaten To Behead Protesters
Despite constant threats by Iranian officials to people to stop their antigovernment demonstrations, citizens continue holding daily and overnight protests.
Videos circulating on social media show that Monday evening people in the central city of Arak threw Molotov cocktails at a basij militia base. Security forces fired live rounds at demonstrators in Vali Asr town of Arak who kept up with their protests with the slogan "Death to Dictator."
Some other videos show people at a metro station in the capital Tehran were chanting the same slogan.
Videos received by Iran International show some young girls preparing fliers for protests and then distributing them among people on the streets.
Another video shows an elderly woman with a walker and without the mandatory hijab walking down a street chanting "Freedom, Freedom, Freedom."
In Tehran, regime forces fired tears gas and detonated stun grenades in the Ekbatan neighborhood in the west of the city threatening the residents who were shouting slogans behind the windows.
Videos show Basij militia forces and special forces used loudspeakers cursing and threatening people saying that "Forty countries came to Syria, but they couldn't do anything there... We swear to God, we will behead our own family if it comes to defending the regime. We would even kill our own wives and children..."
Since the beginning of protests, gatherings have been routinely held in the middle class Ekbatan neighborhood. Videos published on social media showed some clashes between protesters and security forces in the past week.
Reports say a few days ago a member of Basij militia who was harassing residents in Ekbatan was beaten up and now the government claims he succumbed to his injuries at hospital and Basij forces want to take revenge on Ekbatan residents.
Basij thugs have repeatedly fired tear gas at houses and destroyed people's property, but officials have tried to deny it blaming imposters.
It should be mentioned that during the recent uprising, security forces and Basij militia have used inappropriate words and culturally unacceptable insults to threaten peaceful demonstrators.
However, on Monday evening, they threatened people using new language, saying, "We sacrifice our lives and blood for our country. We swear to Allah, if it would be needed, we would behead our wives and children, but we will not let this country [regime] be harmed."
Some reports also suggest that Tehran municipality officials have decided to change the name of Ekbatan neighborhood to Arman after the name of the Basiji militiaman who was killed there.
In recent weeks, security forces have used all their tactics to suppress the nationwide uprising against clerical rule, including internet shutdown, and using live ammunition against the protesters.
Demonstrations that were initially a reaction to the death of the 22-year-old Mahsa Amini in mid-September, began in her hometown Saqqez, but quickly spread to other cities and grew into an anti-regime movement.
The Norway-based Iran Human Rights organization says 253 people, including children and women, have been killed in the ongoing nationwide protests.