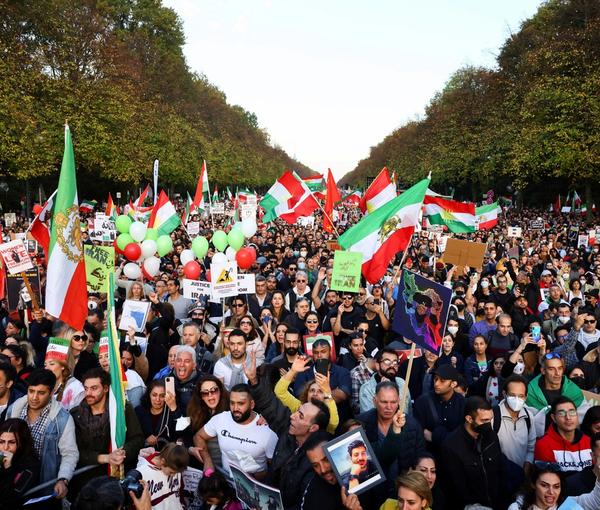 IRGC Paper Threatens Germany Over Large Opposition Rally In Berlin
An Iranian daily affiliated with the Revolutionary Guard has warned Germany of consequences for allowing people to hold a massive demonstration in Berlin against the Islamic Republic. 
In an article published Saturday night, the IRGC's Javan newspaper described the massive Berlin rally — where 100,000 people called for a revolution in Iran — as "a clear interference and support for regime-change seekers by Germany," vowing it will not remain unanswered by Iran and will cost Germans dearly.
Rattled by the huge protest rally in the German capital, the paper claimed that many of the participants were not Iranians who were paid to attend the gathering. It also said many of the protesters were transferred from nearby countries in exchange for free food and accommodation.
The threatening article came a few days after Iranian state media reported that a German citizen was detained during the antigovernment protests in the northwestern city of Ardabil, where security forces beat to death at least one schoolgirl earlier in the month when students refused to attend a pro-regime rally.
The massive Freedom Rally for Iran in Berlin was described as the biggest gathering of Iranian protesters across the world. People from all corners of the continent traveled to Berlin with buses, trains and planes to voice support for their fellow-countrymen struggling against government brutality.
Protesters carried the pictures of Mahsa Amini, the 22-year-old woman who was killed in the custody of Iran's 'morality police', as well as those who lost their lives in the nationwide protest movement since mid-September. They also unfurled a large Iranian pre-revolution national flag, which has become a symbol of rejecting the Islamic Republic.