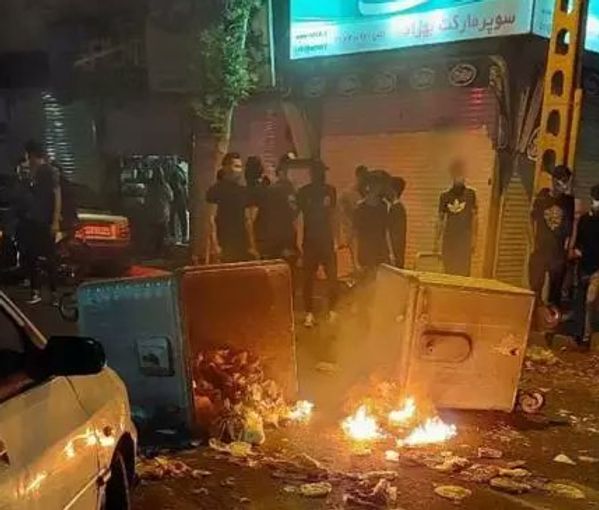 Sociologist In Iran Says 'Window Of Opportunity' Closing For Regime
"Deal with rioters in a way that no one would ever want to take part in any protest," said Tehran's grumpy Friday Prayers Imam Ahmad Khatami in his sermon.
Rioters take part in the protests because they are well-fed," added Assembly of Experts member Mohsen Haydari, another Iranian cleric who enjoys a luxurious life without having worked for even one day in his lifetime, while the middle class has been wiped out due to 40-percent inflation in the past three years.
These are just two examples of what Iranian pro-government clerics who are paid by the Islamic Republic regime to echo Supreme Leader Ali Khamenei's arrogant rhetoric against his own people, many of whom no longer want to submit to his dictatorship
But they are not alone in bragging against the protests. Some military figures also spoke about the uprising on Friday. Brigadier General Hamid Abazari, an adviser to the commander of the IRGC opined that young women and men taking part in the protests have been deceived by "the enemy," which means the United States in the Islamic Republic's political jargon.
All this, and more, have been said while, an Iranian sociologist, Mohammad Reza Javadi Yeganeh, has warned that the window of opportunity for the regime to open a dialogue with the country's angry youths is not going to remain open for long as the regime increasingly isolates itself within its hard core.
Iranian sociologist, Mohammad Reza Javadi Yeganeh
In the meantime, others such as the Tehran Province Governor Mohsen Mansouri have tried to help the regime out of its biggest crisis in 43 years by offering to allocate certain places in big cities where people can protest. Mansouri has made the remark in the disguise of a lawful and democratic proposal. However, Iranian protesters believe this is a trick to make sure that the security forces are aware of all the demonstrations beforehand and can practice various ways to crackdown based on the specifications of every location.
The current protests take place at different locations during daytime and night and gatherings are fairly mobile in a bid to evade dangerous confrontation with security forces who are willing with no reservation to shoot to kill.
In his interview with ISNA, Mansouri said that his office has considered the requests for holding protest gatherings and has responded to those requests. However, it is clear that no such permit has been issued so far even for pro-government "reformist" parties that have recently complained that the Governor's Office and the Interior Ministry have ignored all of their requests.
At the same time, some political figures appear to be fishing in troubled waters by trying to garner support for the next parliamentary election. Mohammad Hassan Asafari, a lawmaker from Arak in the Central Province, told the press that taking part in the protests is a lawful activity, adding that protesters come to his office and talk with him about the situation. He is probably referring to another country as most lawmakers, including Parliamentary Speaker Mohammad Bagher Ghalibaf are known for their opposition to the protests and their comments about cracking down on dissent.
Asafari, however, has acknowledged that people have grievances about the government's economic and foreign policies. This comes while Sociologist Yeganeh, who agrees with the lawmaker on the causes of the protests, wrote in a series of tweets on Thursday that the regime should "recognize the protests and stop behavior that irritates the people," or a gloomy future is s possibility.