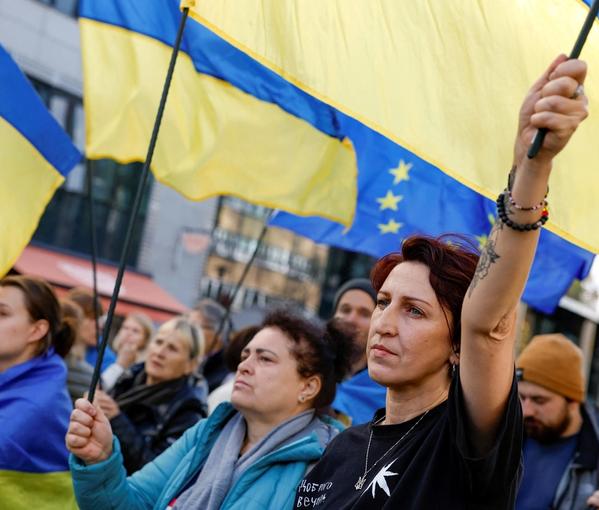 EU Summit Zones In On Alleged Iran-Russia Weapons Links
European Union leaders are expected to focus on China and Iran's military involvement in Ukraine in today's discussion of 'external' relations.
The October 20-21 meeting of the European Council, the EU policy-making body made up of its 27 heads of state, will review Iran's involvement in the Ukraine war after disagreements yesterday over proposals to price-cap Russian energy exports in the face of spiraling prices.
Among ideas circulating is a proposal made Friday by Estonian Prime Kaja Kallas to establish as special tribunal to consider Russian "aggression." But it is unclear if the EU will take further action against Iran or Russia over the alleged supply of Iranian drones (UAVs, unmanned aerial vehicles).
After Josep Borrell Monday said the EU needed evidence before acting, a closed-door United Nations Security Council (UNSC) meeting Wednesday reviewed available information.
The EU and the United Kingdom Thursday sanctioned three Iranian military commanders and a defense company over allegedly supplying drones to Russia. This followed the US imposition of sanctions in September on four companies it said were either involved in supplying Russia or in copying US and Israeli drones.
US, French and British officials have argued that any supply of Iranian drones to Russia violates UNSC Resolution 2231, which endorsed the 2015 Iran nuclear deal, the JCPOA (Joint Comprehensive Plan of Action). While the US left the JCPOA in 2018 and while State Department spokesman Ned Price said Thursday the agreement's revival was "largely academic at the moment," the US argues that Resolution 2231 precludes Iran from exporting drones until October 2023. Price said Thursday that Washington considered it "important that the UN and every responsible UN member state stand by the various Security Council resolutions."
The engine of an alleged Iranian drone shot down in Ukraine. October 6, 2022
'All means…to confront'
US officials argued Thursday not just that Iran had sent military personnel to train Russia in using Iranian-made drones. In a separate media briefing, John Kirby, the White House national security spokesman, said Russian military personnel remotely piloting drones used in Ukraine were based in Crimea. Kirby said the US would use "all means" to "confront Iran's provision of these munitions against the Ukrainian people."
"We assess that Iranian personnel, Iranian military personnel, were on the ground in Crimea and assisted Russia in these operations," Price said at a separate media briefing. "Russia has received dozens of these UAVs…. some of ..[the] proof was put on display before the UN Security Council yesterday."
Price claimed that Moscow "may also seek to acquire advanced conventional weapons from Iran that includes potentially surface-to-air missiles." He also warned China it would incur "costs" if it chose to provide security assistance, military assistance, or otherwise to systematically help Russia evade sanctions."
Ukraine can use the issue of Iranian drones to ask for more Western military assistance, so far totaling around $17 billion from the US, including 1,400 Stinger missiles, and $3.1 billion from the EU, including howitzers. Washington has refused to supply more advanced weapons so as not to escalate the conflict, believing its current approach can drain Russia's ability to conduct the war. Drones, while of limited military value, are far cheaper than missiles.
Ukrainian Foreign Minister Dmytro Kuleba tweeted Thursday he had discussed with Israeli Prime Minister Yair Lapid a request for missile defense assistance. Israel has so far refused to aid Ukraine militarily so as not to upset its relations with Russia.