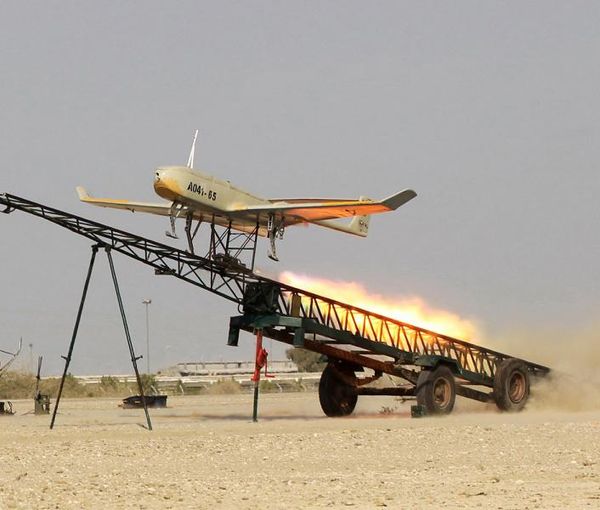 EU, UK Sanction Iranian Generals Over 'Drones Used By Russia'
The European Union and the United Kingdom Thursday sanctioned three Iranian military commanders and a defense company over allegedly supplying drones to Russia.
The decisions introduce travel bans and asset freezes on Major-General Mohammad Hossein Bagheri, chief of staff of Iran's armed forces, General Seyed Hojjatollah Qureishi, a senior defense official, and Brigadier-General Saeed Aghajani, the head of "UAV command" (unmanned aerial vehicle) in the Revolutionary Guards Aerospace Force. The sanctioned company Shahed Aviation Industries makes Shahed-136 drones.
An EU statement said Bagheri supervised Iran's drone program, played a "fundamental role in Iran's defence cooperation" with Russia, including supplying Mohajer-6 drones "for their use in the war of aggression against Ukraine." Qureishi, the statement said, headed logistics at the Ministry of Defense and had negotiated with Russia over drone supply, while Aghajani headed "the backbone" of Iran's drone program.
Major-General Mohammad Hossein Bagheri, chief of staff of Iran's armed forces
A statement from British foreign secretary James Cleverly said the UK was acting against "those who have supplied the drones used by Russia to target Ukrainian civilians and that there was "clear evidence of Iran's destabilising role in global security." The British foreign office said the three individuals were "personally responsible" for providing drones used by Russia in Ukraine.
The EU decisions follows discussions going on since a foreign ministers meeting Monday. Arriving in Luxemburg for that gathering, Josep Borrell, the EU foreign policy chief, had said Europe was seeking "concrete evidence" that Russia had used Shahed-136 drones in recent weeks.
A CNN correspondent tweeted Tuesday that the network had been given "exclusive access to an Iranian-made Mohajer-6 drone, shot down a few weeks ago by Ukrainian forces in Southern Ukraine." The drone, with the marking ER-860, appeared in excellent condition.
'Dangerous new phase'
The Wall Street Journal reported Thursday that US and European sanctions against Iran would complement additional military aid to Ukraine. The Journal cited "officials," presumably American, suggesting Russia's use of drones "takes the war in Ukraine into a dangerous new phase."
Photo of an electronic part said to belong to an Iranian drone after it was shot down by Ukraine on Oct. 6, 2022
The US has sent Ukraine over $17 billion in aid, mainly in weapons, and the EU this week added $500 million to the $2.5 billion already sent in military supplies. Washington, which is so far denying Ukraine more advanced weapons so as to avoid escalation, says it wants to degrade Russian capacity as its diminishing stocks of Cruise and other missiles, which have inflicted far more damage than drones, which carry less explosives and are relatively easy to shoot down. Both the US and Turkey have supplied Ukraine with drones.
Iran has developed its drone program due to its lack of an effective air-force given international sanctions. The Shahed-129, an earlier version, may have been a copy of the Hermes 450, a drone made by Israel, which along with Turkey leads Middle East drone production.
US will 'surge security assistance'
A US statement Wednesday said it had raised, alongside France and the UK, the alleged drone transfer at the United Nations Security Council (UNSC). The statement said Washington would "continue to surge unprecedented security assistance to Ukraine" and reiterated the claim, made also by European officials, that any Iranian supply of drones would violate UNSC Resolution 2231, passed in 2015 to endorse the Iranian nuclear agreement, the JCPOA (Joint Comprehensive Plan of Action). The US said this week that Iran had also supplied drones to Ethiopia in 2021.
Ukraine's ambassador to the UN Sergiy Kyslytsya claimed Wednesday that Iranian drones allegedly used by Russia "meet the parameters" of UNSC Resolution 2231 "because they are capable of a range of equal to or greater than 300 kilometers (186 miles)." However, there is no mention of drones in the resolution, and its restrictions on Iran lasting to October 2023 refer only to "any activity related to ballistic missiles designed to be capable of delivering nuclear weapons…"
The US in September sanctioned several Iranian companies it said were involved in producing drones supplied to Russia, but it was unclear how the measures would add in practice to existing US 'maximum pressure' sanctions, which have since Washington left the JCPOA in 2018 threatened punitive action against any entity worldwide dealing with Iran.