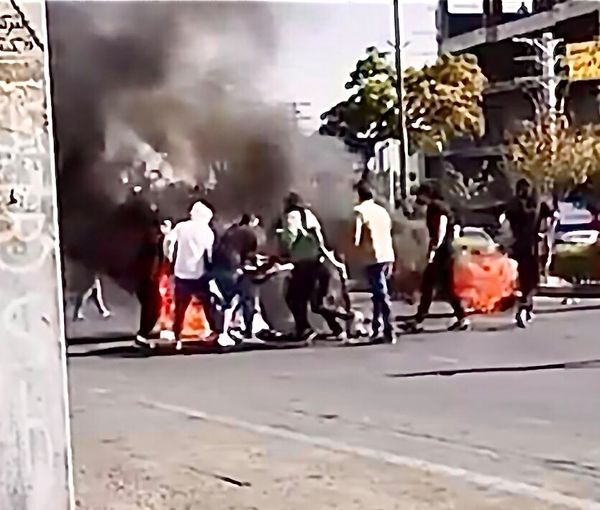 Government Owes 'Billions Of Trash Cans' To Iranians
A website in Tehran has asked if burning street trash bins by protesters is a bigger damage to public property than large-scale systematic government corruption.
Protesters in the past four weeks have been routinely setting fire to large street garbage bins to block streets and prevent security forces from approaching demonstrators, and to protest themselves against tear gas.
A host of top officials have called this a costly destruction of public property, with the chairman of Tehran City Council warned recently that the government cannot replace the trash bins so quickly as each cost around $500.
Aftab News, a reformist website has taken issue with these officials, saying that in the first place, the price quoted is almost four times higher than the retail price for these large, square containers.
In an article on Sunday, Aftab News has then listed a series of large-scale corruption cases linked with government officials, regime insiders, banks and pension funds in the past three decades, arguing that these cases cost taxpayers the equivalent of billions of trash bins.
Iran's economic system is controlled by the government, large religious and military conglomerates, largely based on political influence networks, nepotism and corrupt arrangements. Although the country has exported well above one trillion dollars of oil in this period, economic growth has been anemic and people have become poorer, especially in the past decade.
Hossein Hedayati, a government banker who was one of the few corrupt officials arrested in 2018 for embezzling $350 million
Aftab News argued that in contrast to officials criticizing protesters, some reformists and others argue that many top figures have remained silent throughout the years regarding government corruption and what people in the streets do is nowhere as destructive as what officials have done. The website pointed out that in the 2021 global corruption ranking Iran was in the bottom quarter, ranking 150 among 180 countries.
Some regime insiders recently have raised their voice saying that corruption has become alarmingly systematic. Ahmad Tavakoli a member of a constitutional body and Mahmoud Sadeghi a former lawmaker are among those who have raised the alarm.
Aftab News quotes others as saying corruption cases that reach the government-controlled media are "the tip of the iceberg," pointing out that in one $60-billion state "charity" organization not even one employee has been fired or reprimanded over four decades, while the conglomerate is not accountable to parliament or the government.
It also points to one corruption case in government petrochemical exports that reached the courts in recent years and totaled $7.4 billion, equivalent to more than 60 million trash bins.
Aftab News then goes on listing a dozen other large corruption cases, including a decade-old case of $3 billion disappearing from the central bank and the perpetrator now living in Canada. It mentions the case of Babak Zanjani, an insider businessman tasked with exporting oil during international sanctions in 2010-2013, who pocketed at least $2.7 billion and is now in prison sentenced to death.
Just this year in August, a $3 billion case was revealed in the semi-public Mobarakeh steel plant and after two months no one has been arrested, let alone indicted.
Aftab news says that funds lost in just a few of these corruption cases could buy more than 50 billion trash bins, while high-ranking officials, including Foreign Minister Hossein Amir-Abdollahian make a fuss about a few hundred set on fire by protesters.