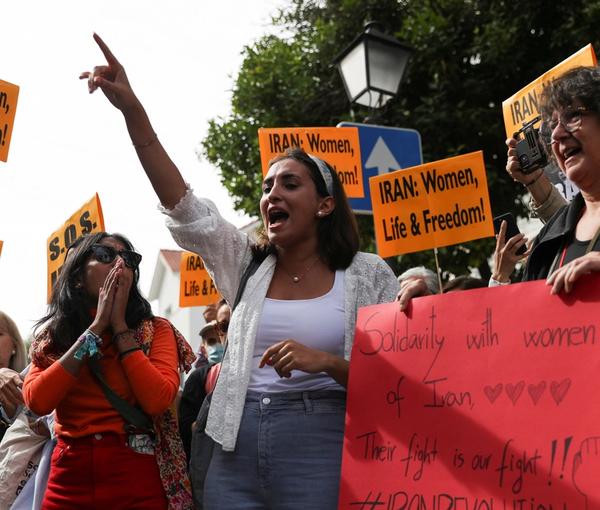 Female Detainees In Iran Kept In Inhumane Conditions, Harassed
Over 100 female protesters held at Tehran's Qarchak Prison have been systematically abused and kept in inhumane conditions since their arrest two weeks ago.
Speaking to Iran International, a source who is familiar with the prisoners' circumstances said they have been strip searched, repeatedly interrogated, threatened by interrogators with losing their once daily two-minute phone calls to their families.
According to the source who did not want to be named for their safety, detainees have been kept indoors in unsanitary conditions throughout this time. The lights are never turned off in the shed even at night, and there are only three toilets and showers.
"Women have developed various infections as there are no facilities for washing and drying clothes and underwear … A few women found head lice in their hair," the source said.
On Wednesday, a religious and public holiday, protesters took to the streets again in several cities including Tehran, Esfahan, and the religious city of Qom in the evening. The video from Isfahan shows people chanting "Women, Life, Liberty" while in another video a group of protesters are seen chanting "Don't be afraid, don't be afraid. We stand together!" in Qom.
A woman protester injured by 'birdshots' from a shotgun during protests
Authorities have not released any information on the number of detainees, those injured and killed in the protests that began nearly three weeks ago following the death in custody of Mahsa Amini who was arrested for not wearing her hijab "properly".
A top Revolutionary Guards (IRGC) commander, Brigadier General Ali Fadavi, said Tuesday that detainees are around 15 years old on average while Tehran's Public and Revolutionary Prosecutor Ali Salehi announced that 400 of those detained in the protests who "were repentant" have been released.
Iran Human Rights, a Norway-based rights organization, said Tuesday that at least 154 protesters, including nine children, have been killed by security forces during the protests.
Very little is known about most of the victims as families are pressured to remain silent if they want the bodies of their loved ones to be handed over to them.
Documentary filmmaker Javad Moguei, a hardliner and Khamenei devotee, has published a very grim account of the great violence against protesters by security forces', IRGC's Basij militia, and their plainclothes helpers on Instagram in the past three days.
Moguei said a police officer shot 14 plastic bullets all over his chest and arms in a matter of seconds only because he had objected to the beating of a young girl protesting on the street with no hijab.
"Don't beat her, she will die, I cried. One of them told me to mind my own business and then my body went on fire. The officer was shooting at my chest and arms nonstop," an apparently disillusioned Moguei who was subsequently thrown into a van and taken away wrote in one of his posts. He said he was released and officials apologized to him when he was recognized.