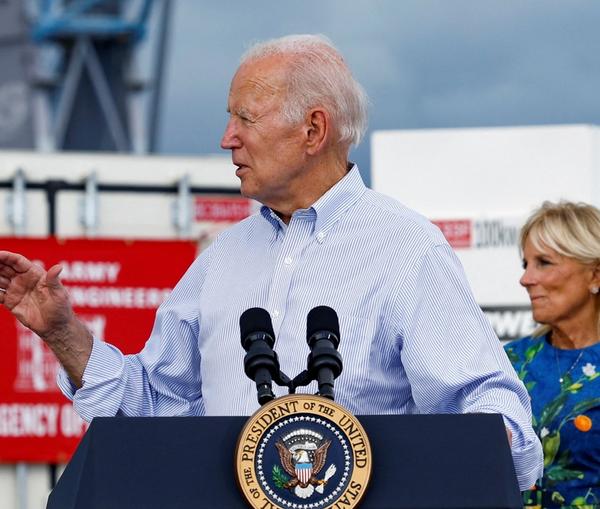 Biden Speaks Out On Iran Protests, Signaling Shift From Obama
Iran's government and media remained largely silent on Tuesday over US President Joe Biden's condemnation of the violent crackdown against protesters in Iran.
Biden issued a statement on Monday saying he remains "gravely concerned about reports of the intensifying violent crackdown on peaceful protestors in Iran, including students and women, who are demanding their equal rights and basic human dignity."
But the President went further and said, "This week, the United States will be imposing further costs on perpetrators of violence against peaceful protestors. We will continue holding Iranian officials accountable and supporting the rights of Iranians to protest freely."
Earlier in the day, Iran's Supreme leader Ali Khamenei had already blamed more than two weeks of street protests on the United States, which he again labeled as "the enemy".
The only response by Iran was a low-key statement by the spokesman of the foreign ministry Nasser Kanaani on Instagram, where he repeated customary criticism of US ignoring human rights in "Palestine and Yemen".
Many Iranians saw Biden's statement as a show of support that was more than what they had expected. Iranian activists and many others who reject the Islamic Republic do not forget President Barack Obama's initial meek response to large protests in 2009. But Biden sounded a bit more resolute, given the fact that his administration has been negotiating for a year and a half to revive the Obama-era nuclear deal known as JCPOA and lift the sanctions imposed on Iran.
"For decades, Iran's regime has denied fundamental freedoms to its people and suppressed the aspirations of successive generations through intimidation, coercion, and violence," he said.
Mahsa Amini, the 22-year-old woman who went into coma and died after severe blows to her head
Gabriel Noronha, a former Trump administration official, reminded the public on Twitter that Secretary of State Antony Blinken in December 2017 had endorsed an advice to Donald Trump to remain silent over nationwide protests that had broken out in Iran.
Considering that the Biden Administration has not relinquished hopes of reviving the JCPOA and might still reopen suspended talks with Iran in the weeks and months ahead, Biden's tougher position on Iran's violations of human rights is a bit surprising.
Previous rounds of protests in Iran generally received less attention by Western media that has often treated the clerical regime with kid gloves. But this time it is different for several reasons.
First, it is important that the protests began when a 22-year-old woman was arrested for "improper hijab" and then received fatal head wounds in police custody and died. Mahsa Amini's story caught the attention of the world and her hashtag surpassed 100 million retweets, easily dwarfing any previous issue.
Second, mostly very young Iranians began protests and persevered for more than two weeks, bringing images of teenage girls removing their headscarves and facing a brutal security force that in November 2019 had killed more than 1,500 protesters without hesitation.
Third, the power of social media in bringing these events to billions of smart phones made classic media a bit irrelevant. No one waited to see what the New York Times reports, and far, far fewer people would even read any reporting compared to hundreds of millions who instantly saw what was happening in Iran on their phones and computers.
These factors made the Iran issue powerful, and Biden reacted a bit differently than Obama. Mahsa Amini became a face people everywhere could relate to and easily understand what is wrong in Iran.
The old arguments that criticizing the clerical rulers in Iran would harm dissidents or lessen the chance of a rapprochement with Tehran, seemed weak - an Obama-era view that was tested and failed.
The argument of those who have been saying that the Islamic Republic is a multi-faceted threat and not just a nuclear issue has been strengthened. Europeans also seem to have been a bit shaken by Mahsa Amini's death and it won't be easy for Iran's clerical rulers to overcome the international awareness about the nature of their rule.