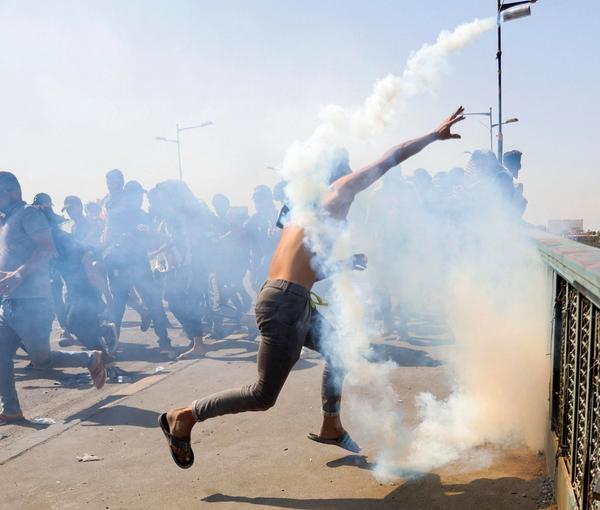 Iraqis Hold Protests Against Corruption, Tehran's Influence
Amid protests in Iran and abroad against the Islamic Republic, Iraqis held a demonstration Saturday against Tehran's interference in the country and recent attacks on Iraq. 
The demonstrations led to clashes between protesters and security forces in the center of Baghdad as thousands of Iraqis had gathered around the city's iconic Tahrir Square to mark three years since nationwide demonstrations erupted against endemic corruption that caused rampant unemployment and the country's decaying infrastructure. Dozens of people were injured during the scuffles.
Protesters also chanted slogans against the Islamic Republic and demanded an end to its influence and interventions in Iraq. 
The latest protests in Baghdad come as Iraq has been mired in political paralysis since elections one year ago that have failed to bring in a new president, prime minister or government. 
According to Iraqi media reports, Iran-backed militia groups in Basra fired several Iranian-made rockets at people's houses on Friday night. This is the latest attack in a wave of missile and drone strikes by Iran's Revolutionary Guards targeted at Kurdish groups in the Iraqi Kurdistan region. 
Amid nationwide protests in Iran sparked by the death in custody of a 22-year-old Kurdish woman, Iran's Revolutionary Guard has stepped up its attacks on the region, apparently aimed at intimidating the Kurds.
In solidarity with residents of Iraqi Kurdistan, many business owners have launched strikes in Iran's Kordestan province and other western provinces with Kurdish population.