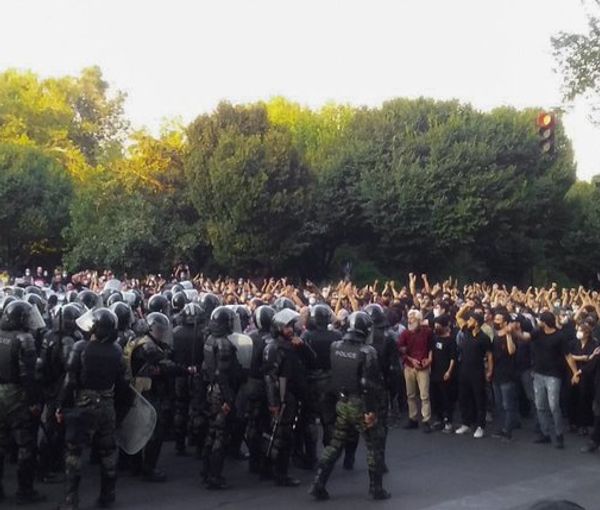 Iran Arrests 20 Journalists, Blocks Internet Amid Protests
Iran International TV reported Thursday that 20 journalists have been arrested in Iran as the government disrupted internet services amid popular protests.
The figure was sourced by Iran International to the lawyer of Efaheh Mohammadi, who said his client had been arrested after covering for the Ham-Mihan newspaper the funeral of Mahsa Amini, who died 16 September after being detained by morality police.
Mohammadi was reported in December 2021 by the Mujahideen-e Khalq, the Albania-based opposition group, to be banned from journalism for a year after Revolutionary Guards' (IRGC) Intelligence complained over her reporting of "women's issues" and the downing of a Ukrainian passenger plane near Tehran January 2020 during tensions with the United States.
The International Federation of Journalists, the Brussels-based association, claimed Monday 17 journalists had been arrested including two from the reformist newspaper Shargh and three from Mukrian, a Kurdish news agency, including editor Masoud Kurdpur.
Novelist J.K. Rowling, widely known for her Harry Potter books, tweeted Wednesday on the arrest of Niloufar Hamedi, arguing the Iran should be "held accountable for its human rights violations." Rowling referred to a London Times article published Tuesday with a Dubai dateline that said Hamedi was held in solitary confinement after "breaking the news that Amini, 22, was in hospital following her arrest," and publishing "a photo of her parents hugging each other in the hospital corridor, which spread rapidly online."
Some of the reporters arrested in Iran in the past one week
Social media: 'venue for the enemies'
Lotfollah Siakhali, a principlist member of parliament who is a proponent of internet restrictions, told reporters Wednesday that social media was "the biggest venue for the enemies to further their conspiracies" and therefore "restrictions [on Internet access] will continue" as long as unrest went on.
The IRGC commander in Tehran said on Wednesday that 185 members of the Basij militia, which has both full-time and part-time members and is IRGC-affiliated, had been injured during clashes, some critically. Basij militia is widely used in attacking protesters.
But Elon Musk's headline-grabbing offer September 23 to extend the Starlink satellite Internet link to Iran has floundered. Musk's intervention was followed by a US announcement lifting the threat of sanctions against anyone providing internet services or equipment to Iran. Musk reportedly told Washington-based Carnegie Endowment fellow Karim Sadjadpour Sunday: "Starlink is now activated in Iran. It requires the use of terminals in-country, which I suspect the government will not support, but if anyone can get terminals into Iran, they will work."
'Watch out for Gollum'
Middle East Eye reminded readers Tuesday that Musk once tweeted that "Iran's nuclear weapons facility is apparently called 'Frodo'. Watch out for Gollum!"?
Iranian leaders and officials resorted to their playbook of accusing the US and foreign-based media operations of fomenting violence, largely though the conduit of social media. In a televised interview on the official IRIB television Wednesday President Ebrahim Raisi criticized "fabricated claims on killing people" circulated by "the enemy."
The Iranian government rarely issues permits for protests, except to its own supporters who do not need any formal permission. Six reformist parties, that do not oppose the Islamic Republic, submitted a request days ago and have not received any response.
Heath minister Bahram Einollahi said last week that 72 ambulances had been destroyed. Activists based abroad, cited in the UK Observer newspaper, claimed this happened because ambulances were used to move police forces.