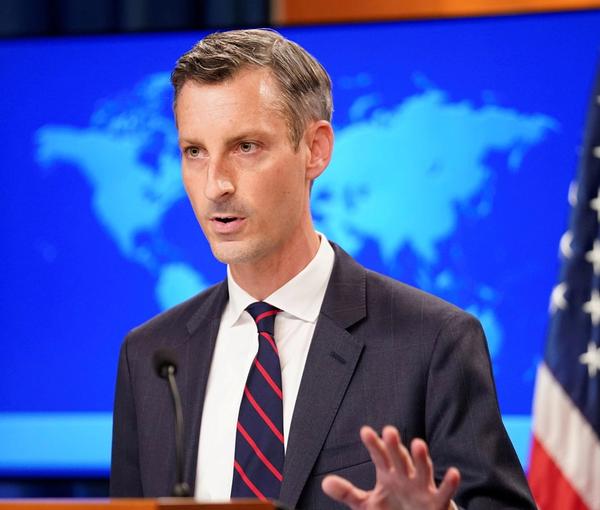 US Trying To Defend Nuclear Talks While Supporting Protests In Iran
The Biden Administration is under increasing pressure to reconcile its policy of nuclear talks with Iran and taking a clear position in support of ongoing protests.
While the administration has taken some steps to show its support for Iranians protesting for freedom, it still remains committed to reviving the 2015 nuclear accord (JCPOA), which would give the Iranian regime billions of dollars in sanctions relief.
Critics say that in the current situation when the Iranian government is killing protesters, lifting sanctions would simply provide a huge financial windfall to the regime to suppress the people, and to carry on with its malign regional policies.
In fact, those who were opposed to the revival of the JCPOA now have further reason to question the administration's policy of nuclear talks with Tehran.
State Department spokesperson Ned Price on Monday tried hard to respond to this quandary during his daily briefing.
"Both are a national interest of ours. These are core to our interests and to our values. So of course, we are committed, President Biden is committed, to seeing to it that Iran is never in possession of a nuclear weapon," he said, referring to President Joe Biden's stated policy of not allowing Iran to obtain nuclear weapons and supporting the demands of protesting Iranians.
But under tough questioning by reporters, it became apparent that the spokesperson faced a difficult challenge, amid increasing calls for a tougher policy toward Iran.
The administration insists that reviving the JCPOA is part of not allowing Iran to obtain nuclear weapons. But the deal's sunset clauses will run out in less than a decade and Iran would be free to expand its nuclear program, while earning money free of sanctions.
The second argument the administration presents is that the nuclear challenge Iran poses is the most dangerous and the revival of the JCPOA will address that. However, it agrees that Iran also poses other dangerous challenges to the United States and its allies, such as its support for militant proxies around the region that are already dominating Iraq and Lebanon and building a military infrastructure in Syria.
While reviving the JCPOA would temporarily stop Iran's progression toward a nuclear bomb, the sanctions relief will allow it to amplify other dangers it poses to the region and US national interests.
A relevant historical example would be US arms limitation talks with the Soviet Union, by which successive administrations tried to harness the arms race while calling for freedom and democracy in the Communist empire. But those talks were not contingent on providing tens of billions of dollars to Moscow in sanctions relief.
Ned Price also highlighted that the administration eased sanctions on sending software and hardware to Iran to provide Iranians free access to the internet after the government severely restricted connectivity. In that context, however, he was careful to distinguish the Biden Administration form its predecessor by saying, "We are helping people around the world, including in Iran, access personal telecommunications technology. This, of course, is not a regime change policy."
Iranian officials, including foreign minister Hossein Amir-Abdollahian have accused the US and the West of fomenting or supporting the protests, trying to argue that the popular demonstrations are not genuine and engineered from abroad. In an interview with Al Monitor the foreign minister went as far as calling hundreds of videos showing violence against protesters "fake".