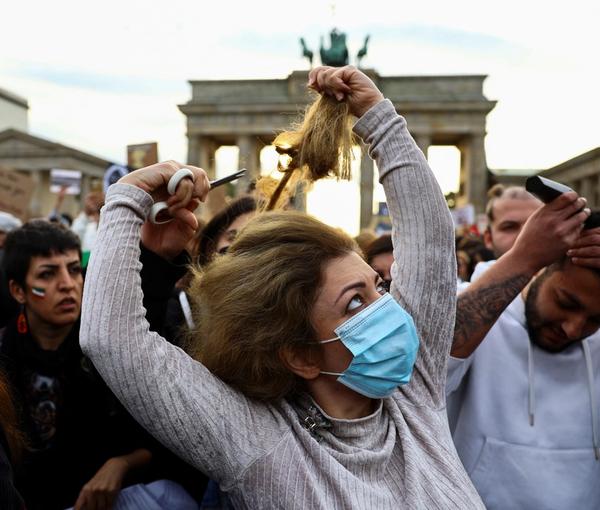 Amnesty Urges Global Action Over Iran Protests As Death Toll Risis
Amnesty International has reiterated its calls for urgent global action, warning of further bloodshed in Iran amid a deliberately imposed Internet blackout.
"UN member states must go beyond toothless statements, hear the cries for justice from victims and human rights defenders in Iran and urgently set up an independent UN investigative mechanism," said Heba Morayef, Middle East and North Africa Director at Amnesty International.
Amnesty said evidence it had gathered this week of fresh violence in 20 cities and 10 provinces across Iran points to a "harrowing pattern of Iranian security forces deliberately and unlawfully firing live ammunition at protesters."
According to the organization, on the night of 21 September alone, shootings by security forces, consisting of Revolutionary Guard agents, paramilitary Basij forces and plainclothes security officials, left at least 19 people dead, including at least three children.
"Amnesty International has reviewed photos and videos showing deceased victims with horrifying wounds in their heads, chests and stomachs," the organization said adding that the rising death toll is an alarming indication of just "how ruthless the authorities' assault on human life has been under the darkness of the internet shutdown."
An Iranian security agent aims and fires his assault rifle at protesters
Iran's state-run television Friday evening reported a death toll of 35 protesters and security forces but according to Iran Human Rights (IHR), a rights group, at least 50 protesters were killed in various cities and towns across the country since protests started last week. Several videos published on social media show security forces directly aiming at protesters with shotguns or rifles.
Authorities have resorted to what global Internet watchdog NetBlocks has called "curfew-style cellular network disruptions" to interrupt contact among protesters and leaking of footage from the protests. they have also restricted Instagram, WhatsApp, and LinkedIn at the national level.
The General Staff of the Armed Forces in a statement Saturday praised security forces' "patience" but warned that they will no longer tolerate "any violence or insecurity" and would "take decisive action against those who disrupt public order and security".
Security forces have extensively arrested protesters as well as dozens of activists and journalists including photojournalist Yalda Moaieri, journalist Fatemeh Rajabi, and Niloofar Hamedi, a journalist with the Shargh daily who was first to report Mahsa Amini's case from a hospital in Tehran where she was taken after collapsing at a detention facility.
Officials, including President Ebrahim Raisi, and state media insist there will be a probe into the young girl's death and claim those on the streets are "thugs" and "rioters" who have "hijacked" protesrs over her death to push their own agenda. The Revolutionary Guards (IRGC) has warned protesters and attributed the protests to "enemy plots" carried out by "anti-revolutionaries".
Authorities mobilized supporters to stage demonstrations after Friday prayers and claimed "millions of Iranians" took part, but eyewitnesses claim supporters' numbers were so small that the state television had to resort to images from previous years in its broadcasts. At least in one image shown on television the date on a banner belonged to several years ago.