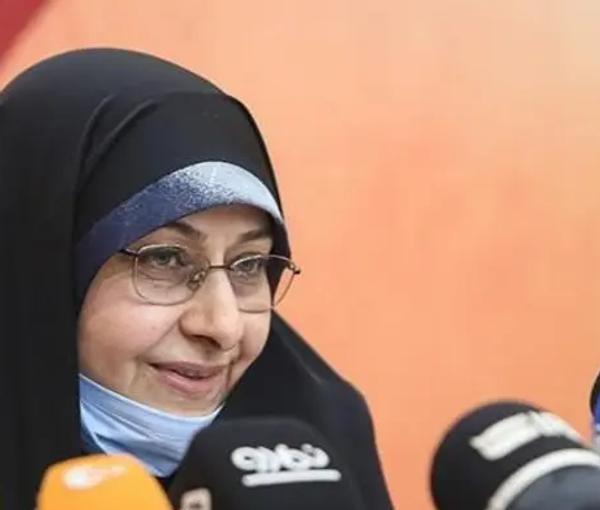 Emigration Of VP's Son To Canada Stirs Controversy in Iran
A full-blown controversy has again erupted in Iran over top officials sending their family members to live in the West, while they chant revolutionary slogans.
One day after Iran's President Ebrahim Raisi warned his officials on September 7 to prevent their children's immigration to other countries, social media activists revealed that Vice President Ensieh Khazali's son has been living in Canada for several years.
Raisi had even warned that if an official's offspring migrates from Iran, the father needs to resign and follow his child. He obviously never thought that the next official whose son's immigration will be revealed could be a woman.
Khazali denied the report about her son's immigration and said he was on a short visit to Canada to further "knowledge-based" research. This is one of the favorite terms of Iran's Supreme Leader Ali Khamenei who has nicknamed the current year as "the year of knowledge-based production."
Subsequently, Iranians on social media revealed that Khazali's son, Hamid Rezazadeh, has been running a company in Canada, which sells VPNs to Iranians who need to circumvent government censorship of the Internet. Ms. Khazali is an advocate of limiting Iranians' access to the Internet.
Iranians have been particularly angry about an intensified government effort r to further limit access to social media and websites by slowing down internet connection and other technical measures.
Some asked Ms. Khazali why her son did not go to Russia or China for "knowledge-based" research. Iranian cleric Rahmatollah Bigdeli in a series of tweets called on Khazali to resign and at the same time, revealed that some other officials' children including Tehran Mayor Alireza Zakani, and former Majles Speaker Gholam Ali Haddad Adel are also living abroad.
Iranian hardliners usually frown at the immigration of the officials' family members and some like former Majles Speaker Ali Larijani were barred from running in elections.
A figure of 5,000 family members of senior officials living abroad was cited in 2020 by Mohammad Gharazi, a former minister. In November 2021, Alireza Salimi, a member of parliament, suggested that officials under former President Hassan Rouhani, including deputy ministers had moved to Europe due to fears they would be banned from leaving the country.
In 2019, Brian Hook, special representative for Iran (from 2018 to 2020) under President Donald Trump told Iran International that "children of Islamic Republic officials live rich and comfortable lives in the United States and other countries while Iranian people live in terrible conditions." Hook said this showed "the regime's hypocrisy."
In May this year,General Morteza Mirian, commander of Iran's Revolutionary Guards' ground forces, claimed that 4,000 relatives of "senior officials" live in the United States, Canada, and Europe.
During a live television show the General said that they should be "tracked" so as not to be allowed back to Iran to take up managerial positions.
On Friday, Iranian sociologist Javad Miri told Etemad Online website that some Iranian officials send their children to the United States and Canada although they always chant slogans in support of the "struggle against arrogant powers." He quoted some officials as saying that sending their children abroad is part of their campaign against "imperialism".
He added: "Some Iranian officials' attitudes toward the West has changed and they see sending their children to Western countries as an opportunity." He added that "Iranian officials wish to strengthen their network within the Iranian government by sending their children to study in the West," presumably to prepare for occupying positions of power when they return to Iran.