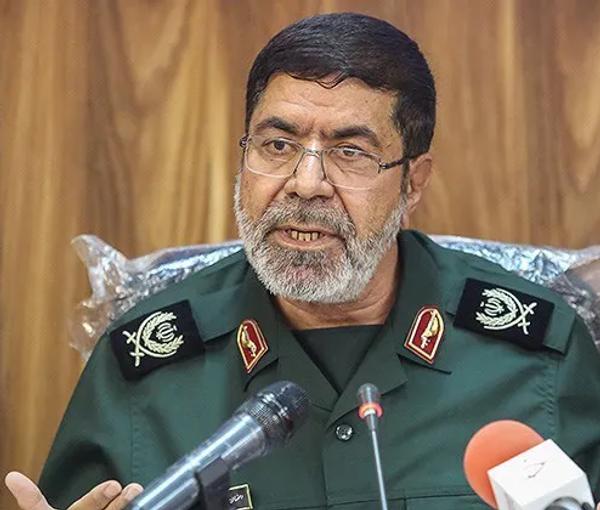 IRGC Rejects Infiltration By Israel In Its Intelligence Unit
The spokesman for Iran's Revolutionary Guard (IRGC) has rejected speculations that Israel or any other country has infiltrated the IRGC and its intelligence apparatus. 
Referring to several mysterious killings of IRGC officers in recent months, Brigadier General Ramezan Sharif said on Saturday that the assassinations do not indicate the power of Israel, emphasizing that the Islamic Republic has responded and will continue to respond to their hostile acts. 
Referring to the May 22 assassination of Hassan Sayyad in Tehran -- who was in charge of some IRGC operations abroad -- he said that the assassination of an officer in Tehran is not an unimportant issue, but it shows that the Revolutionary Guards do not live separated from the ordinary people. 
"The Israelis are extremely vulnerable and live in fear all the time. They repeat that they have the Iron Dome (air defense system) or cyber (systems), which shows their weakness," he added, noting that they have resorted to psychological warfare due to their failures in the field. 
"The Zionist regime is experiencing the worst security condition and is under intense pressure," he said, adding that "Their (Israelis) measures have no impact on the Islamic Republic at all because they are unable to confront Iran."
Following repeated incidents indicating widespread Israeli infiltration in its intelligence and security networks, Iran's IRGC admitted in June that its counter-intelligence was targeted.
Earlier in June, Hossein Ta'eb, the long-serving head of the Revolutionary Guard's Intelligence organization (SAS in Persian acronym) was replaced followed by other personnel changes at the top.
The change considered to be a pivotal move by Supreme Leader Ali Khamenei came after a series of unexplained deadly attacks against IRGC officers and other breaches of security in Iran's nuclear and military installations.