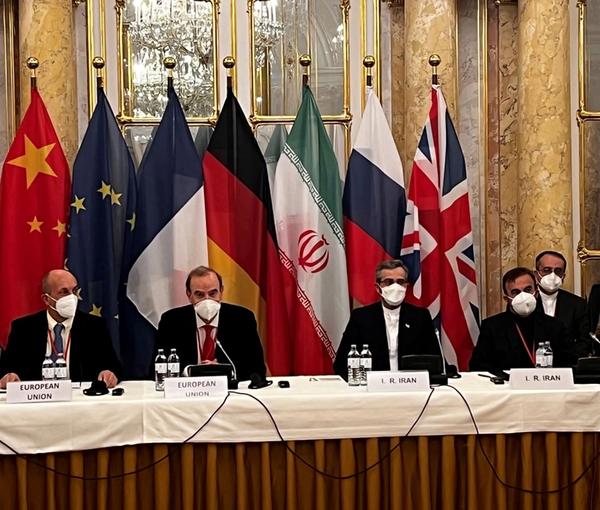 Info Leaked From Iran Details More 'Concessions' By Washington
A leaked report on alleged remarks by Iran's chief nuclear negotiator obtained by Iran International, provides details on "concessions" Iran claims to have received from the US.
The leaked report is from a closed-door briefing Ali Bagheri-Kani provided to journalists in Tehran in recent days.
The length and breadth of points mentioned by Iran's chief negotiator show a multitude of concessions by the United States, but it does not include references to what Iran has agreed to do, to return to compliance with 2015 nuclear deal, the JCPOA.
On Thursday, Iran International received information circulating among Iranian hardliners about alleged "concessions" offered by the United States, but the original source was not identified.
According to detailed leaked information, Bagheri Kani mentioned the following "concessions" Iran was able to extract from the US.
1- The amount of natural uranium Iran receives from Russia must be double the amount of yellowcake it is obligated to hand over to Russia according to the JCPOA.
2- Issue of removing IRGC from the US list of Foreign Terrorist Organization (FTO) will be discussed in negotiations that will follow the revival of JCPOA.
3- However, the US guarantees that its sanctions against IRGC would not affect other sectors and firms: e.g. a petrochemical company shouldn't be sanctioned by US because of doing business with IRGC. In other words, the FTO designation will have mostly a "symbolic" value.
Bagheri-Kani in Vienna as he starts his first roud of talks on November 29, 2021
4- The US guarantees that its domestic laws like The Countering America's Adversaries Through Sanctions Act (CAATSA) and Patriot Act would not impact implementation of its obligations under JCPOA. This claim by Bagheri-Kani can have serious legal implications, since both deal with financial and other illegal activities in arms proliferation and terrorism.
5- In addition to the United States abrogating three Executive Orders issued by former President Donald Trump, Iran has received concessions from US on two other Trump EOs which deal with sanctions on Iranian entities tightly linked to the state and its military and clandestine projects. Bagheri-Kani said during the briefing that Iran has not given any concessions in return for annulment of these Eos.
6- Upon Russia's proposal, the deal says, "the participants note the firm commitment of the US President (not mentioning Joe Biden by name) for returning to JCPOA compliance as long as Iran remains committed to the deal." Bagheri says this means the US president guarantees implementation of JCPOA (even though it's not binding for any of the two sides).
Bagheri-Kani meeting with the Russian negotiator Mikhail Ulyanov, January 23, 2022
7- The UN Security Council's snapback mechanism to be used in case of Iranian JCPOA violations can only be triggered based on an IAEA report. If one country triggers the mechanism unilaterally, other parties commit not to cooperate with it, and compensate the Iranian side.
8- The US guarantees that all foreign companies that would start working with Iran until the end of Joe Biden's presidency, will remain exempted from possible reinstated US sanctions for 2.5 years after a US withdrawal. Bagheri- Kani explained that Iran demanded this clause in case if Republicans win the Whit House in 2024 and move to withdraw from the JCPOA. Although not binding once the US withdraws, but it would add more international political pressure on the United States.
9- US Secretary of State will publish a letter announcing the US participation in JCPOA.
10- In Doha talks in June, the US and EU accepted Iran's demand that the issue of IAEA probes are linked to JCPOA talks. Now the IAEA BoG is expected to end the the international nuclear watchdog's probe into Iran's past nuclear activites.
* Bagheri-Kani also claimed that he heard from Mora that Ulyanov had, in his talks with EU, expressed objection to closure of IAEA's Iran probe. But Bagheri says Mora must have been "lying" because Ulyanov always supported Iran's demand in his talks with the Iranian team.
Baqer and Siamak Namzi, father and son, held hostage in Iran since before the US exited the JCPOA
11- Iran will release all US prisoners once the $7 billion worth of its assets frozen in South Korea are released. Bagheri said Iran and the US had earlier agreed on this, but US reneged on its promise, assuming that the money will give Iran financial breathing room to raise new demands.
According to Bagheri, Iran refused to accept the following US demands:
1- Discuss Iran's missile program in parallel with the JCPOA talks. In fact, this was dropped during the first weeks of the Vienna talks in 2021 when the previous Iranian administration was conducting the negotiations.
2- Discuss Iran's regional policies and actions, which the US still insists on and might be tied to future talks on lifting the IRGC sanctions – if any such talks take place.
3- Discuss limiting Iran's nuclear breakout time.
4- Destruction of Iran's uranium enrichment centrifuges. Bagheri-Kani said that the other side wanted Iran to destroy its IR-6 advanced centrifuges (around 100 machines), but they finally agreed that Iran keeps the machines in a warehouse under IAEA's watch.
5- Destruction of concrete platforms of for these and possibly other centrifuges.
6- A promise by the two countries' foreign ministry spokespersons that Iran and the US will not anymore seek to kill citizens of the other side. Iran refused to accept this, even though US law enforcement agencies say the Islamic Republic launched plots to kill former Trump administration officials on US soil.
Bagheri-Kani at one point also said that Iran used smart tactics to win points. One example was disregarding around 11 deadlines set by the West, and on one occasion dismissiing US Special Envoy Rob Malley's threat to leave Vienna, saying that in the end Malley stayed.
It is not clear if leaking the information from Bagheri-Kani's alleged media briefing was an intentional act by Tehran.
What he claimed in the briefing could still damage the outcome of the talks, and it is possible the victorious claims were intended for domestic consumption, once media in Iran is allowed to publish them.