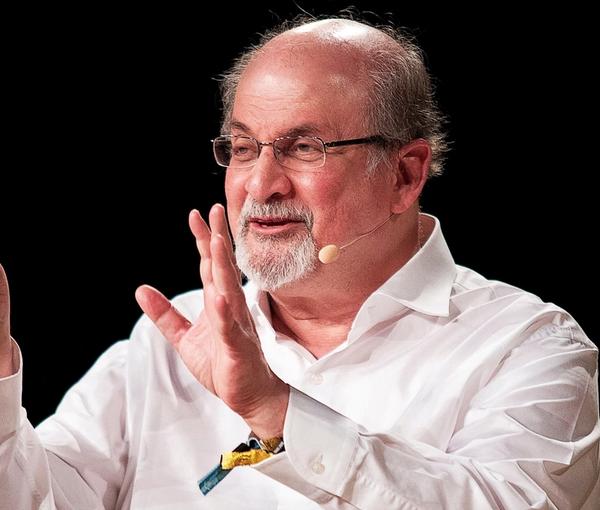 Rushdie, Under Iran Death Edict, Suffers 'Multiple Stab Wounds'
Salman Rushdie, author of the 1988 novel Satanic Verses, was assaulted in New York state Friday, apparently stabbed in the neck, and helicoptered to hospital.
Rushdie, 75, was in 1989 the subject of a death sentence in an edict issued by Ruhollah Khomeini, then leader of Iran. In 2012, it was widely reported that the 15 Khordad Foundation, a quasi-official religious body in Iran, had increased an existing bounty offered for killing Rushdie from $2.8 million to $3.3 million.
Witnesses, including a reporter for Associated Press, reported that the attack on Rushdie, just as the author was about to begin a lecture at the Chautauqua Institution, lasted around 20 seconds. Police reported that a state trooper at the event took the attacker into custody as others held up Rushdie's legs, presumably to maintain blood flow to the chest.
The New York Times reported that Rita Landman, an endocrinologist also in the audience, said Rushdie had multiple stab wounds, including one to the right side of his neck, and that there was a pool of blood under his body.
'He has a pulse…'
She said he was still alive, however, with people saying "He has a pulse, he has a pulse he has a pulse."
Moments after the attack on Rushdie in NY State. August 2, 2022
Nothing has yet emerged about the attacker or his motivation.
While Iran's reformist president Mohammad Khatami in 1998 assured Britain the Iranian authorities would "neither hinder nor assist assassination operations on Rushdie," Ali Khamenei, leader after Khomeini's death in 1989, has several times said the edit, or 'fatwa,' was still in place.
In 2019 Twitter deleted a message on Khamenei's account reiterating this.
Suzanne Nossel, head of PEN America, of which Rushdie is a former president, said she could think of "no comparable incident of a public violent attack on a literary writer on American soil."
'Full accountability'
Chuck Schumer, who represents New York state and leads Senate Democrats, said the "attack on freedom of speech" was "shocking and appalling" and called for "full accountability and justice."
The attack on Rushdie comes two days after the US Justice Department announced charges against an alleged Iranian Revolutionary Guard over a plan to kill John Bolton, the former national security adviser.