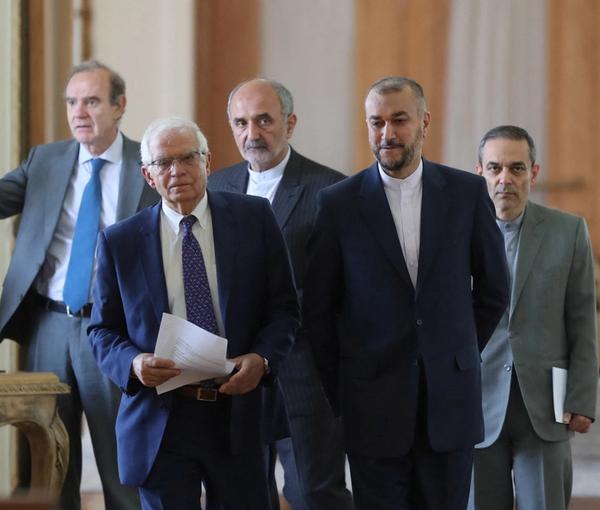 Iran Says Contacts With EU Continue Over Stalled Nuclear Talks
Iran says contacts with European Union continue to plan for the resumption of nuclear negotiations, including discussion on a date and venue for the talks.
Foreign ministry's new spokesperson Naser Kanani in his first weekly briefing with reporters said that chief negotiator Ali Bagheri-Kani is in touch with European Union's coordinator of the talks Enrique Mora. He added that if the "other sides are committed to multi-lateral talks, Iran is also ready to follow that path."
The latest round of unsuccessful negotiations took place in Doha, Qatar at the end of June. Bagheri-Kani held 'proximity talks' with his US counterpart Robert Malley through Mora, still refusing to meet the Americans in direct talks.
It was not clear if Kanani's reference to "multi-lateral talks" meant that Tehran does not want negotiations just with the West and wants to bring back China and Russia to any future talks.
President Ebrahim Raisi, however, sounded defiant on Wednesday saying Iran will not retreat from its "rightful and logical" stance in talks to revive the 2015 nuclear pact, state media reported.
Almost one year of negotiations in Vienna ended at an impasse in Vienna in March. Russia, China, the United Kingdom, France and Germany, the participants of the 2015 nuclear deal known as JCPOA were holding sessions with Iran. The United States was present on the sidelines, although it was the main protagonist in the complicated process of restoring the JCPOA.
Kanani repeated Iran's demand of guarantees for its economic benefits if an agreement is reached. The US has agreed to left major economic sanctions, but Iran is insisting on all sanction imposed by the former US administration to be removed, including terrorism penalties imposed on companies, individuals and the Revolutionary Guard.
The foreign ministry spokesman also dismissed statements by President Joe Biden published last week in The Washington Post, that said the US will keep up economic and diplomatic pressure on Tehran until it is will to reach a nuclear agreement.
Biden also said that his administration has been able to deter attacks by forces aligned with Iran in the Middle East.
Kanani engaged in a long monologue, accusing the United States of bringing instability to the region and said that Biden had no right to accuse Iran or its allies of sowing discord in the region.
Kanani also responded to Israeli statements about having the right to prevent Iran from obtaining nuclear weapons. He retorted that Israel has not signed the Nuclear Non-Proliferation treat (NPT) and has a large stockpile of nuclear weapons, so it has not right to accuse Iran's "peaceful nuclear program" of having any military dimensions.
Iran began its nuclear program in 1990s secretly until its existence was revealed in 2002. Some aspects of that secret phase still remain unexplained and the International Atomic Energy Agency's board of governors overwhelmingly censured Tehran in its June meeting.
Kanani repeated the Iranian threat of a "decisive response" to any Israeli action that would be "regretted by the Zionist regime."