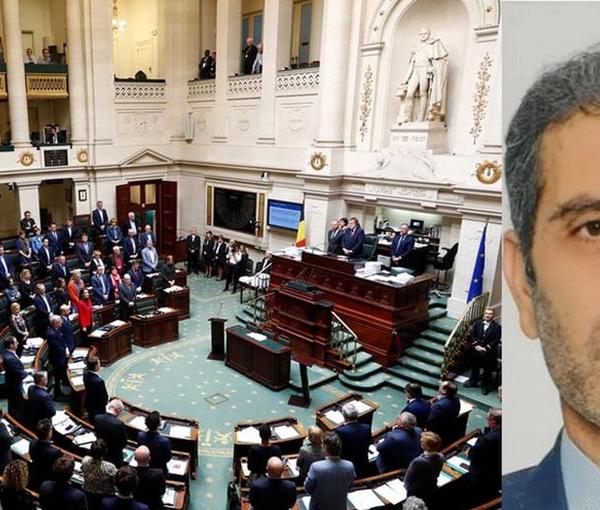 Belgian Parliament Set To Facilitate Prisoner Swaps With Iran
The Belgian Parliament is set to review a bill on the exchange of convicts with Iran next week, which can facilitate a prisoner swap with the Islamic Republic.
A treaty between Iran and Belgium, which was signed in March, was brought before parliament on June 29 for approval. 
If approved, it will potentially result in sending back Iranian diplomat Asadollah Assadi, who was sentenced to 20 years in prison for masterminding a failed terrorist attack in Europe, back to Iran.
Iranian dissidents have raised alarm on social media that the agreement would mean the Islamic Republic can send agents to target its critics in Belgium and, if arrested and convicted, Brussels will send them home to spend their sentences, because Iran can easily arrest a Belgian on false charges to arrange an exchange. 
Assadi, 50, a former attaché at the Iranian embassy in Austria, was convicted of plotting to bomb a gathering of the exiled opposition group Mujahedin-e Khalq Organization (MEK) near Paris on June 30, 2018.
The Iranian diplomat -- the ever brought to trial in Europe for direct involvement in terrorism -- was arrested in Germany, where he did not enjoy diplomatic immunity, while he was on holiday. German authorities later extradited Assadi to Belgium. 
Iranian officials say there are no plans to trade EU citizens held in Iran including Ahmadreza Djlali (Jalali), a Swedish-Iranian doctor that Iran says it will execute soon on charges of spying for Israel, with Iranians held in EU countries such as Assadi or Hamid Nouri, facing life imprisonment in Sweden over his role in prison executions of the 1980s.