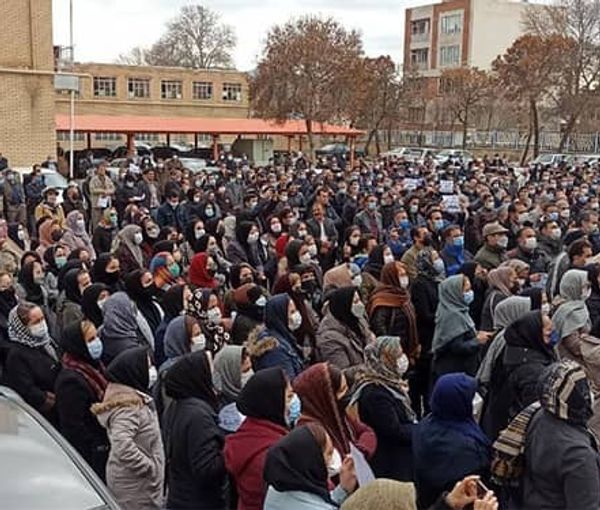 Iranian Teachers Plan New Round Of Nationwide Strikes, Protests
While many cities across Iran are scenes of protests by various union activists, Iranian teachers have announced a nationwide protest slated for next week.
The Coordination Council of Iranian Teachers' Trade Associations issued a statement on Thursday, calling on teachers all over the country to take to streets on June 16 from 10:00 AM to 12:00 PM local time and demand their legal rights.
Teachers have been often holding protests for nearly a year, but the political situation in Iran has worsened in recent months, with rising food prices and a growing perception of government inefficiency and corruption.
The statement said their demands include better salaries, freedom of their colleagues arrested during the previous rounds of demonstrations as well as standard education facilities and free education for students. They also demand the implementation of decade-old legislation that would bring the salaries and pensions of 750,000 teachers in line with other civil servants.
Emphasizing that holding protests for their demands is among their basic rights, the statement added that the authorities are charging union activists with fabricated accusations of endangering the security of the country, as a last resort to repress the protests and ignore teachers' demands.
"We declare loudly that if our colleagues are not released immediately and unconditionally, and the legitimate demands of Iranian teachers are not fulfilled, the protests will continue," the statement read.
The teachers' restlessness coincides with protests by Iranian retirees, which started Monday and continued Thursday in several cities across the country.
The pensioners, who are protesting the meager rise in their pensions while the inflation rate is hovering at over 40 percent, gathered in front of the offices of the Social Security Organization in the cities of Karaj, Zanjan and Arak among others. Just a few days ago the government announced that pensions for most retirees will increase by just 10 percent.
On Monday, enraged protesters chanted slogans such as "Death to Raisi", directing their anger at President Ebrahim Raisi and denounced "empty promises" by the government. Videos surfaced on social media Thursday showing people cheering for the Pahlavis, who ruled Iran before the 1979 Islamic revolution, praising the Shah's government for taking care of them.
On Tuesday, videos showed the bazaar in the northwestern city of Tabriz was on strike with merchants shutting down their stores and businesses in protest to a sudden increase in sales tax.
On Wednesday, similar strikes and protest rallies were reported by merchants in the southern city of Bandar Abbas.
Strikes in Bazaar, or traditional retail market, have a deep historical root in Iran and signal a serious political and economic crisis. The bazaar strikes played a major role both in the Constitutional Revolution of the early 20th century and the 1979 revolution against the monarchy.
Four years of deep economic crisis in Iran following the introduction of United States 'maximum pressure' sanctions in 2018 has led to sharp increases in living costs and to labor unrest. In January hundreds of firefighters and staff from the judiciary took to the streets in several cities. Prison guards have also picketed to protest their salaries.
People from different walks of life, including teachers, nurses, firefighters, and even judiciary department employees and prison guards, have held protest rallies or strikes to demand higher salaries.