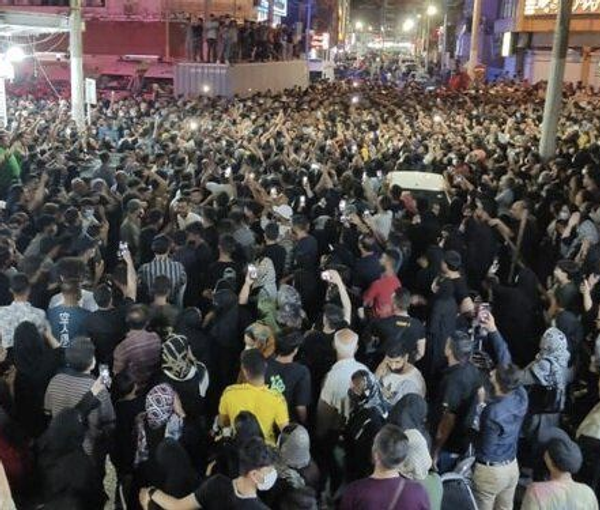 Protests Continue In Iran Despite Heavy Security Presence And Arrests
Sporadic protests continued in Iran on Saturday despite a heavy presence of security forces and minimal information available with lack of internet access.
The main hotspots were in the south-western Khuzestan province, center of Iran's oil industry, where protests erupted on Tuesday after the collapse of a 10-story building killing at least 29 people. More than thirty dead victims are still in the rubble of the building.
Thousands of security forces, some dispatched to Khuzestan in recent days, were present in Abadan where the building incident took place and in other cities. Nevertheless, reports said protests took place in Andimeshk, while in Abadan, nearby port of Khorramshahr and the provincial capital Ahvaz security forces tried to prevent large gatherings. In fact, activists said that the situation in these cities resembled marshal law.
There were also protests in a suburb of Tehran Saturday evening. In Shahre-Ray protesters gathered and chanted "Death to the dictator" in a popularized slogan directed at Supreme Leader Ali Khamenei.
Authorities also began a determined effort to arrest as many suspected protesters and protest organizers as possible on Saturday, but there is no clear information about the extent of these arrests. Usually, it takes a few days until news trickles out amid the internet disruption and the prevailing atmosphere of fear and police crackdowns.
Cleaning operations continue in Abadan at the site of collapsed building. May 28, 2022
The building collapsed that triggered the current protests has become a symbol of government corruption for Iranian, as it became clear that there were multiple violations involved, including the owner adding five floors despite strong objections by engineering inspectors. The mayor's office in Abadan appears to have been complicit in approving or ignoring the violations.
From the very day of the incident on May 23, authorities began to realize the collapse of Metropol building would have political ramifications and began arresting some local officials. Initially they said that the owner was also detained, but a day later, on May 24 officials changed their story, saying he died under the rubble.
Many people and journalists on social media expressed deep skepticism, putting forward a different scenario that the well-connected businessman simply escaped and his friends in the government were attempting to cover up by claiming that he died in the collapse.
Iran International published two documents Friday that suggested a connection between the owner of the building Hossein Abdolbaghi and Mowud Shamkhani, son of the secretary of the Supreme National Security Council, Ali Shamkhani, and other influential local officials who may have used their influence to help Abdolbaghi participate in large municipality-funded projects.
On Sunday, an Iranian official in Khuzestan revealed that a government-run free trade zone had ceded three parcels of land to Abdolbaghi, but the decision has now been rescinded. The powerful Shamkhani clan was previously running the free economic zone and the issue of land for Abdolbaghi shows there is perhaps more to hidden connections between political and business magnets, who use their combined means to engage in illegal deals.