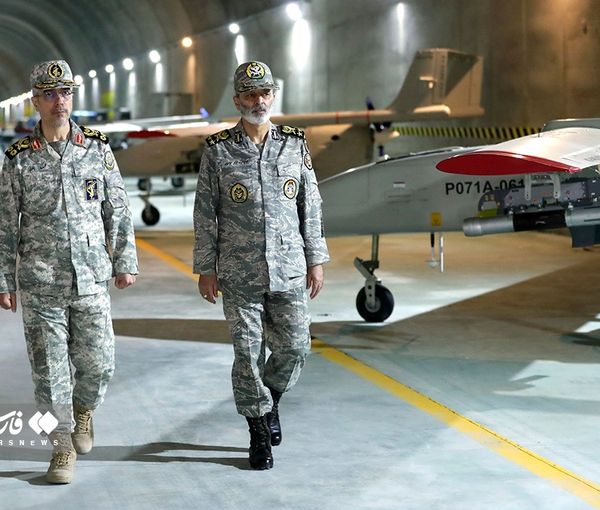 Iran Showcases Drones Amid Stalled Nuclear Talks
Mohammad Bagheri, chief of staff of the Iranian armed force, has unveiled Iran's first cruise missile than can be fired from a drone, named Heidar-1.
Visiting the underground 'strategic drone base 313,' Bagheri also revealed a drone that can be mounted on a helicopter. The Heidar-1's UAV was reported to have a 200km range and be capable of hitting a target at a maximum speed of 1,000km per hour.
Heidar-2, Iran's Unmanned Aerial Vehicle which can be mounted on a helicopter
Over 100 drones are kept in the base in the Zagros mountains, including Kaman-22, Kaman-12 and Qods Mohajer, the last an intelligence, surveillance, target-acquisition, and reconnaissance drone capable of carrying four precision-guided munitions. The base is also home to the Ababil-5, which is fitted with Qaem-9 missiles, an Iranian-made version of the air-to-surface United States Hellfire missile.
With drones increasingly deployed in the region – partly due to their low cost – since Israel and the United States introduced them in the 1970s, Bagheri told commanders and engineers in a speech that Iran had to remain vigilant and up-to-date with equipment and tactics. Wednesday's reported attack on Iran's Parchin military site has been attributed to an Israeli 'suicide drone.'
Major-General Abdolrahim Mousavi, the army commander-in-chief of the army, said that Iran's drones were "the region's most powerful" and its capacity to upgrade them "unstoppable." Military analysts credit Turkey, which has domestic production, as leading the use of drones in the region, while the United Arab Emirate has both its own manufacturing and imports from China.