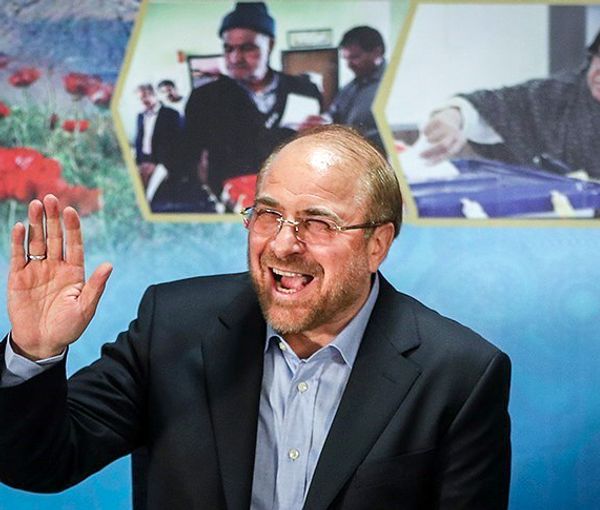 Supporters Say 'Intelligence' Behind Iran Parliament Speaker's Scandal
Supporters of Iran's parliament speaker claim that rivals in intelligence agencies were behind his family's scandal that led to calls for his resignation.
A fake news began circulating Friday that the speaker had resigned, quoting Tasnim news agency, which prompted a quick denial by the agency, which is affiliated with the Revolutionary Guard.
Overall, by Saturday the scandal showed signs of dying down, specially with a long religious holiday, when newspapers shut down and news websites focus on urgent news.
In a long series of tweets Thursday, Mahmoud Razavi, an advisor to the Parliament Speaker Mohammad-Bagher Ghalibaf, claimed that he had fallen victims to a plot by political rivals in intelligence and security bodies.
Razavi alleged that certain "political-security circles whose interests are in danger" were behind the circulation of a photo of Ghalibaf's family upon returning from Turkey which sparked a scandal quickly dubbed as "Layette-Gate" and that they used the whistleblower, journalist Vahid Ashtari, to carry out their plot against Ghalibaf.
On Tuesday, the photo of a family circulated on social, apparently after an alleged argument with airline staff over unauthorized extra luggage at Istanbul airport. The family who arrived in Tehran with apparently a large layette set they bought in Turkey were quickly identified as Ghalibaf's wife, daughter and son-in-law who are expecting a baby.
The revelation caused a barrage of criticism and resurfacing of other alleged corruption cases against the family.
Razavi said taking the trip, as Ghalibaf's son said in a statement after the revelation, was an "unforgivable mistake". But he argued that passengers on the flight could not have recognized the speaker's family members who were wearing covid masks, nobody knew of Ghalibaf's daughter's pregnancy, there had been no argument over extra luggage, and that airline officials would not give passengers' details to anyone so the journalist who blew the whistle must have been fed information by people with influence in intelligence bodies.
"Are the country's security and justice bodies, the intelligence ministry, and the Revolutionary Guards (IRGC) Intelligence Organization going to sit and watch, like previous instances, as political-security circles damage the country and disturb public's mind in order to eliminate their political rivals?" he wrote.
Another Ghalibaf supporter, former political editor of hardline Mashregh News website, also claimed the involvement of security and intelligence bodies. It's naïve to see one person, the whistle-blower, behind the plan to destroy Ghalibaf's reputation, Ali-Akbar Gholami said Thursday. "It seems that a security team was monitoring the family's departure and return," he said.
Arguing that the whistle-blower, Ashtari, is a known hardliner and that he has ties with former nuclear negotiator Saeed Jalili, some hardliners claim that Jalili and the ultra-hardliner Paydari Front were behind the scandal. They also say that these political rivals want to oust the speaker and takeover the Parliament's presidium.
Political commentator Sadegh Zibakalam told Iranian media that the incident is a symptom of the post-revolution generation forsaking their fathers' slogans of a revolutionary lifestyle and want to live a normal life. He explained that the younger generation wants to live in comfort, travel, get a good education and enjoy life. But when it comes to the children of Islamic Republic officials, this creates a strong contradiction between what fathers are preaching and what their children seek.