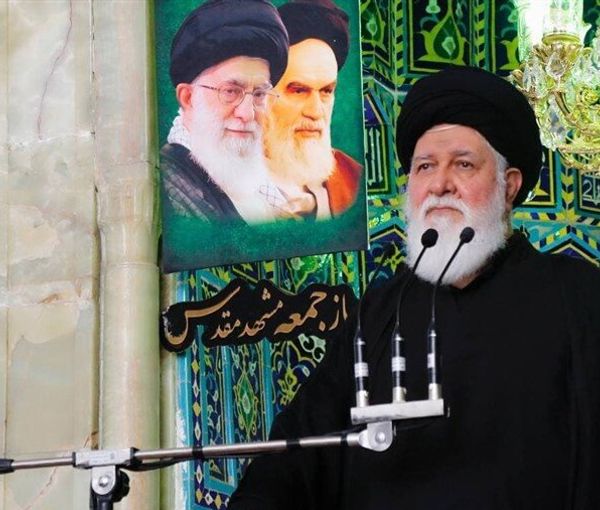 Firebrand Cleric's Supporters Campaign To Elevate His Political Status
Viral videos on social media showing eulogists praising the firebrand Friday Prayer Imam of Mashhad, Ahmad Alamolhoda, raise questions abut his political aims.
The eulogists likened Alamolhoda to Shiite saint Abbas, a brother of Imam Hussain, the third Imam of the Shiites, and described him as "A great interpreter of the holy Koran, a wise scholar, a revolutionary character and the flag bearer of the Islamic revolutionary front in Khorasan and a religious, cultural and political leader." It is difficult to find any indication at all of any one of those attributes in Alamolhoda's track record though.
These are lofty words of praise while Alamolhoda is present, listens to the eulogists and has no reaction.
Criticism of Alamolhoda's complacency while listening to eulogists in Mashhad was so fierce, that he had to issue a belated statement on April 6, thanking the eulogists and the people for their support and saying that in fact the eulogists' praise for him was a sign of support for the prophet, mindless of the fact that putting himself in the same league as Muslim saints would entail further backlash.
A rabble-rouser campaigns for Alamolhoda in Mashhad on April 5, 2022
However, this and another video posted on Iranian websites, are only two of several indications showing a propaganda campaign perhaps to groom the fundamentalist cleric for a position still unknown to the public. In yet another video, a cleric warns critics that "Alamolhoda is our red line. Please do not make us angry."
Pictures also surfaced on social media showing Iranian army's air force personnel saluting Alamolhoda exactly in the same way they showed up to welcome Khomeini in 1979 a week before the Islamic revolution.
Khomeini and also current Supreme Leader Ali Khamenei used the show of respect by air force personnel to prove that they had support among the armed forces. Social media users have pointed out the similarity between these pictures and Khomeini's 1979 publicity photos.
Alamolhoda (C) seen with Supreme Leader Ali Khamenei and his son-in-law President Ebrahim Raisi. Undated
Also on April 6, 17 lawmakers from Khorasan Province wrote a letter to Khamenei in which they praised Alamolhoda for preventing women's entry into a stadium in Mashhad on March 29 where the Iranian and Lebanese soccer teams faced each other. Apparently at Alamolhoda's order, security forces prevented hundreds of women from entering the stadium to watch the game and attacked them with tear gas and pepper sprays, leaving several women injured.
Although Alamolhoda might be eying the position of Iran's next Supreme Leader, some Iranian social media users opined that he might be trying to garner support as a presidential candidate in the next election. The latter looks more realistic as the eulogists described Alamolhoda's virtues while addressing Khamenei, and the members of the parliament also addressed Khamenei in their letter.
Some Iranian media outlets including Rouydad24, however, have noted that the publicity stunt by Alamolhoda's camp could be a reaction to supporters of Majles Speaker Mohammad Bagher Ghalibaf. They won the Mashhad City Council election last year and one of them, Khalil Movahed has been criticizing Alamolhoda in public gatherings in the city since January 2018 when a major nationwide anti-government protest started from Mashhad.
Alamolhoda, who is the father-in-law of President Ebrahim Raisi, is known for banning a lot of social and cultural events in Mashhad. The news website Entekhab has summarized the bans in an infographic which shows concerts, playing electronic games, wearing certain type of clothes, riding bicycles and motorcycles and mountaineering by women are among the activities he banned in Mashhad. A social media user who has posted the infographic, wrote: "Thank God that breathing and going to toilet are still not banned!"
‌Because of his arbitrary rulings, some of Almolhoda's supporters nicknamed him the Sultan of Khorasan, but social media users objected by saying, albeit in not polite words, that "Khorasan is part of Iran and no one should indulge in the illusion of being the province's sultan."