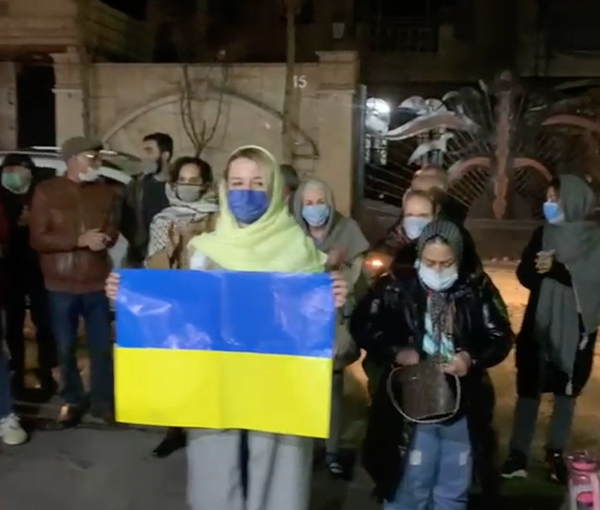 Iran Police Disperse Crowd Chanting 'Death To Putin And Supporters'
Videos on social media Saturday evening appeared to show police dispersing protesters chanting "Death to Putin" outside the Ukrainian embassy in Tehran.
After a summons to protest on social media, those assembled also chanted "Russian Embassy Is Den of Spies," "Death to Warmongers and Putin Supporters," "Putin Murders, the Stupid Ones Support,""Long Live Ukraine," and "Long Live Peace."
Police began dispersing protesters a short while after they began to gather. A woman is seen in one of the videos telling the police, "We hate you."
Videos on social media also showed police had cordoned off the Russian embassy in central Tehran to prevent protesters gathering there. Iran International has learned that additional security measures were put in place around the embassy as soon as calls for a protest went out on social media.
Iranian leaders, including President Ebrahim Raisi and Foreign Minister Hossein Amir-Abdollahian, have generally attributed the crisis in Ukraine to Nato and American "provocations". They have called on Russia and Ukraine to call a ceasefire and find a diplomatic solution to end it.
Some Iranians and media outlets are unhappy with this. Reformist commentator Sadegh Zibakalam has tweeted "solidarity" with Ukraine and condemned what he called the Iranian government's support of Russia: "Contrary to the government's stance, the hearts of many Iranians are with the people of Ukraine and they condemn this aggression."
The conservative Johmouri Eslami newspaper said Saturday that Russia had "clearly violated Ukraine's sovereignty" and that "military occupation of a country is against international regulations and ethical values."
According to Modara news website, Mahmoud Abbaszadeh-Meshkini, spokesman of the parliament's National Security Committee, said Saturday that any recognized political party could submit an application to the interior ministry for a protest rally, including over Ukraine.
"Will you agree to permit a protest rally if a group of Iranians decide to stage a rally in front of the Russian Embassy to protest against the Russian invasion of Ukraine or it is [considered] against [Iran's] national interests?" journalist Mohammad Mohajeri asked in a tweet addressed to Interior Minister Ahmad VahidiSaturday.
Despite a constitutional right to freely protest, provided that participants do not carry arms and do not cause damage to "foundations of Islam", authorities regularly ignore applications for holding protest rallies.
Iran's state broadcaster (IRIB) controlled by Supreme Leader Ali Khamenei and media such as Fars and Tasnim news agencies affiliated with the Revolutionary Guard, have generally avoided the use of the word 'attack' and referred to "Russia's special military operations in eastern Ukraine."
This has riled some. Reza Ghobishavi, deputy editor of the conservative Asr-e Iran news website, criticized Thursday media outlets that had "sacrificed their credibility by siding with Russian President Vladimir Putin."
Former conservative deputy speaker of parliament Ali Motahari in a tweet Thursday compared IRIB to a "Russian colony."