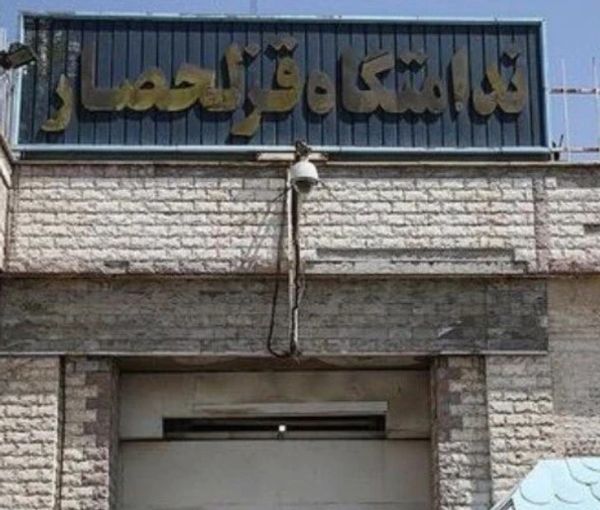 Hacktivist Group Releases Videos, Documents From Iran Prison
A hacktivist group has released footage from closed-circuit cameras in an Iranian prison to prove it hacked the security system of the detention center.
Hacktivist group Edalat-e Ali (Ali's Justice) sent the videos along with some files and classified prison documents to Iran International on Monday to prove they also hacked the computers of Ghezel Heassar prison located in the city of Karaj some 20 kilometers northwest of the capital Tehran.
The video shows security guards' reactions as their camera feeds were being cut off.
The documents received by Iran International include a list of hundreds of prisoners who were arrested during the November 2019 protests and their charges.
Many were sentenced to long term prison sentences and lashes on charges such as taking photos from the protests, parking their cars where the protests were held, having PDF version of forbidden books in their phones, or shouting slogans against the leaders of the Islamic Republic.
Another document, attributed to the judiciary and signed by Tehran's deputy prosecutor Mir-Mostafa Seyyed-Ashrafi, was about proposed strategies to counter trials and tribunals about Iran's human rights violations that were held in Europe, including the Netherlands, Sweden, and the UK.
The document contained details about the Stockholm trial of Hamid Nouri (Noury) as a judge and torturer in the 1988 wave of prison executions, and the Iran Tribunal about the mass executions of the 1980s in The Hague, as well as Iran Atrocities Tribunal that probes the 2019 protests that were the bloodiest in Iran's history.
The document said although the verdicts of such trials are symbolic and non-binding but they can pave the ground for the arrest of Iranian officials abroad, adding that during the tribunals there were calls for President Ebrahim Raisi's arrest for his role in the mass executions.
The document also mentioned the Albania-based opposition Mujahedin-e Khalq (MEK) and rights activist Masih Alinejad as evidence that the United States is also involved in these tribunals "behind the scenes."
Last week, the group had also interrupted a website for the online streaming of Iran's state television and broadcasted a video with a strong opposition message, calling on people to come out to protest.
Edalat-e Ali also released a "highly confidential" document on Twitter Wednesday, which was apparently the minutes from a November meeting of IRGC's 'Livelihood-Based Security Crises Prevention Taskforce,' saying the political situation in the country was dangerous.
The group had released a similar media package from security cameras of Evin Prison in August 2021 and claimed responsibility for hacking several Iranian government entities in the past three years.