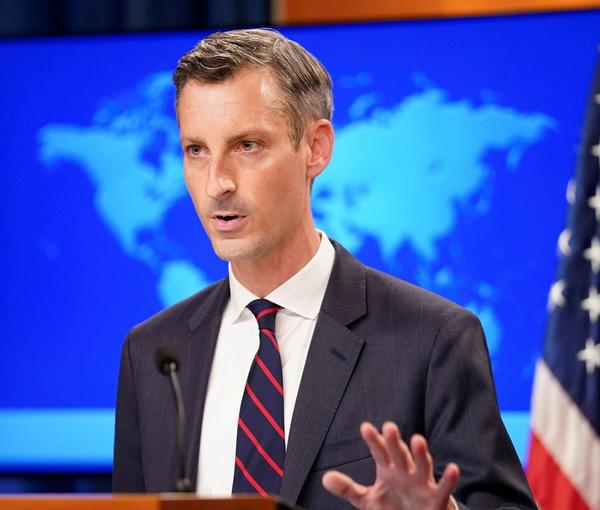 US Defends Decision To Offer Waiver For Iran's Nuclear Program
The Biden Administration was quick to defend sanctions waivers for Iran's nuclear program on Friday, after the move was perceived as a concession to Tehran.
State Department spokesperson Ned Price said the waiver was not a sanctions relief and emphasized that the US will not provide sanctions relief to Tehran before it returns to its commitments under 2015 nuclear deal.
"We did not provide sanctions relief for Iran and will not until/unless Tehran returns to its commitments under the JCPOA," the US State Department spokesman tweeted Friday after President Joe Biden's administration restored sanctions waivers for Iran to allow international nuclear cooperation projects.
Critics of the Biden Administration's strategy to negotiate a restoration of the 2015 nuclear agreement with Iran were quick to criticize the moveas a concession to Iran, which might have prompted Price's tweet.
Congressional pressure has been increasing on the Biden Administration to explain its Iran strategy, while the Vienna talks have dragged on for 10 months without a result and Iran has continued to expand its nuclear program.
The waivers allowed Russian, Chinese and European companies to continue cooperating with Tehran's non-proliferation projects including electricity generation at Bushehr nuclear power plant, Arak heavy water production facilities, and the Tehran Research Reactor. The Trump administration which pulled out of the JCPOA in May 2018 rescinded the waivers in 2019 and 2020 as part of his "maximum pressure" campaign.
Iranian officials have not commented on the Biden administration's move but Secretary of Iran's Supreme National Security Council (SNSC) in a ," tweet Saturday said no agreement can restrict "Iran's legal right to continue research and development" and "to maintain its peaceful nuclear capabilities and achievements" in an apparent reference to the Biden administration's restoration of the waivers.
After a meeting on Wednesday with Iran's top negotiator, Ali Bagheri-Kani, the spokesman of the Iranian parliament's National Security and Foreign Policy Committee, Mahmoud Abbaszadeh-Meshkini, said Bagheri-Kani had said the talks were moving in a positive direction but there were important issues that had to be resolved. According to Abbaszadeh-Meshkini, in his meeting with lawmakers Bagheri-Kani denied any direct talks with the US.
"The waiver with respect to these activities is designed to facilitate discussions that would help to close a deal on a mutual return to full implementation of the JCPOA and lay the groundwork for Iran's return to performance of its JCPOA commitments," the State Department said in a notice to Congress that announced the move.
"It is also designed to serve US non-proliferation and nuclear safety interests and constrain Iran's nuclear activities," the State Department said. "It is being issued as a matter of policy discretion with these objectives in mind, and not pursuant to a commitment or as part of a quid pro quo. We are focused on working with partners and allies to counter the full range of threats that Iran poses."
The next round of indirect talks between Iran and the US in Vienna to restore the deal, Joint Comprehensive Plan of Action (JCPOA), are expected to resume soon. The eight round of talks broke last week and negotiators returned to their capitals for consultations.
"We did precisely what the last Administration did: Permit our international partners to address growing nuclear non-proliferation and safety risks in Iran," Price said in his tweet in response to critics who say the Biden administration is desperate to make a deal while Tehran continues to rule out any concessions.
The waiver was needed to allow for technical discussions that were key to the talks about a return to the deal, a senior State Department official told Reuters on condition of anonymity. The official added that restoring the waiver was not a signal that the United States was on the verge of reaching an understanding to return to the deal.
"The waivers are less a goodwill gesture or a concession to Iran, but rather technical steps that are probably aimed at ensuring implementation discussions can go forward in Vienna," Eurasia Group analyst Henry Rome told Reuters.