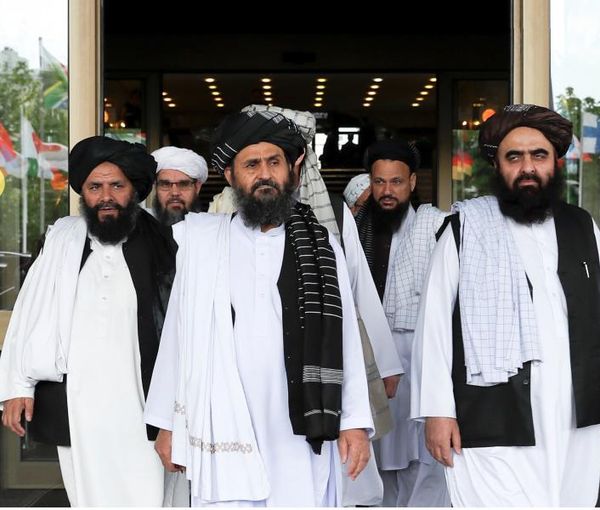 Iran Newspaper Steps Up Opposition To Recognizing Taliban Rule
A top Iranian conservative paper has attacked potential recognition of Afghanistan's Taliban government as "worse than a strategic mistake" and "dishonorable".
Jomhuri Eslami (Islamic Republic), one of Iran's oldest newspapers, in a commentary Saturday suggested Tehran had decided to join Russia in recognizing the Taliban's 'Islamic Emirate of Afghanistan' despite the group's history of 'terrorism' and religious intolerance.
Russia has suggested it would recognize the Taliban if it met several conditions, including forming an 'inclusive' government and giving guarantees over human rights. Russia, and other states including China, have held off a decision while keeping diplomatic contact, much as the United States did in reaching its 2020 agreement with the Taliban over US military withdrawal.
The 2020 US-Taliban agreement saw the Taliban commit not to allow operations by militant Sunni groups like the Islamic State (Isis-Daesh). Tehran is likewise concerned over possible infiltration by Sunni militants, especially those linked to Isis and Baluchi separatists.
In a joint statement issued October 20, Russia, China, Iran, India, Pakistan and four central Asia republics – following a meeting of the 'Moscow Format Consultations on Afghanistan' established in 2017 – issued a statement viewing the Taliban as the new rulers "irrespective of the official recognition of the new Afghan government by the international community."
Taliban leaders at the Moscow conference on Afghanistan. October 20, 2021
Reflecting disquiet in Tehran, a senior official in the Iranian foreign minister criticized "Russia's weak handling"of the Moscow Format talks and suggested the joint statement had not been agreed.
Jomhuri Eslami, which has resisted those in Iran arguing Tehran must deal with Taliban whether it wants to or not, in its commentary Saturday argued the Taliban would eliminate Persian as an official language and remove Shia religious jurisprudence from law, and that it was forcibly evicting Shiite Hazaras from their lands and denying women the chance to study and work. All this, the paper argued, showed the Taliban was not "worthy of recognition."
For Iran, which considers itself the leader of the Shiite world, the suppression of Afghan Shiites is anathema. Human Rights Watch (HRW) this week said that since taking Kabul in August, the Taliban had forcibly evicted thousands of Afghans from their lands.
Sunni-Shia war?
Last week Taliban Spokesman Zabihullah Mujahid expressed hope in an interview with Iran's Hamshahri newspaper that Tehran would soon recognize the Islamic Emirate of Afghanistan. Mujahid said the new rulers in Kabul had good relations with Iran, shared interests in trade and security, and was receiving "Iranian delegations." He dismissed as propaganda reports of discrimination against Afghanistan's Shiite minority including the Hazaras.
Nour News, a website close to Supreme National Security Council Secretary Ali Shamkhani, in a commentary Wednesday said that "acting on the United States' behalf," Isis was trying to discredit Taliban declarations over security, entice a negative reaction from Iran, and fuel a Sunni-Shia war.
Nour cited the recent bombings at Shia mosques in Kunduz and Kandahar, killing at least 90 people, as evidence that Isis aimed at "heightening insecurities and causing ethno-religious conflicts." Nour called on the Taliban "as promised" to offer support to Shiites taking on security for themselves.
Iran will host its own meeting of foreign ministers of Afghanistan's neighbors in Tehran October 27 and has invited Russia. Khairullah Khairkhwa, the Afghan minister of information, said Thursday that Kabul had yet not decided whether to attend.