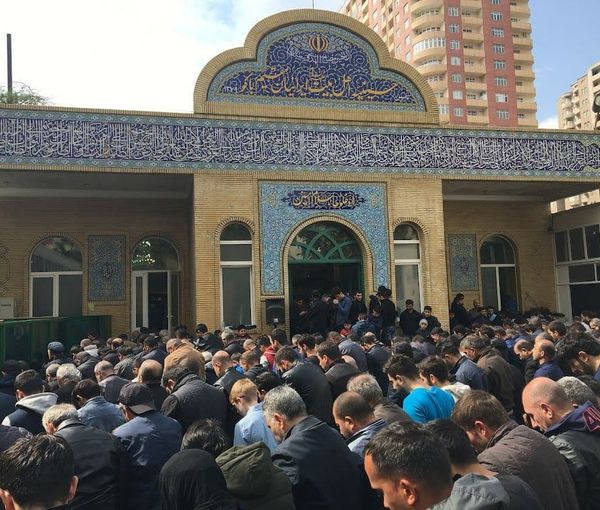 In Latest Azerbaijan-Iran Spat, Baku Blocks 'Pro-Iranian' Websites
Azerbaijan's government has blocked Shia websites it says "engaged in Iranian and religious propaganda," following weeks of tensions between the two neighbors.
Tensions between Tehran and Baku, pumped up by media outlets, had appeared to ease since a phone-call between foreign ministers Hossein Amir-Abdollahian and Jeyhun Bayramov on October 13 and this week's release of two Iranian truck drivers arrested on a transit road.
But Azerbaijani media reported Saturday that six websites − Deyerler (Values), Maide (Blessings), Ahlibeyt (Prophet's Household), Ehlibēt (also Prophet's Household), Shia and Islaminsesi (Voice of Islam) − had been blocked. Baku has not made an official announcement.
Deyerler is edited by Ilgar Ibrahimoglu, the previous imam of Baku's main Friday Mosque. The well-known and openly pro-Iranian imam also heads Defense of Freedom of Religion and Conscience, a non-governmental organization.
The website of the Stockholm-based Aznews (ANT) Television, which supports unity between Azerbaijan and the Azeri area of Iran it calls 'South Azerbaijan,' reported that Youtube channels carrying Iranian religious programs had also been blocked.
The Aznews website said Iran was breeding "terrorist groups in various countries under the guise of religion and religious sects to further its ideology."
The relationship between Baku and Tehran has been fraught since last year's war between Armenia and Azerbaijan, with Tehran uneasy over Azerbaijan's territorial gains, Baku's reported military relationship with Israel, and the alleged presence of Sunni militants shipped in from Syria by Turkey. Both Iran and Azerbaijan have recently carried out military maneuvers near the border.
Baku continues to detain four clerics who are members of the Assembly of Clergy of Azerbaijan and who were arrested last month, although it has released Ibrahimoglu, arrested at the same time.
On October 5 the Iranian embassy in Baku said Azerbaijani police had inspected an Iranian mosque in Baku, Iranian Husseiniya, and shut it down. The mosque, which is affiliated to the Iranian embassy, houses the office of Ali-Akbar Ojaghnejad, representative in Azerbaijan of Iranian leader Ali Khamenei.
The Iranian ambassador, Seyed-Abbas Mousavi, later said that the closure had not affected Ojaghnejad's work, which is conducted in the same building. According to Azeri media, Ojaghnejad has returned to Tehran.
Azerbaijan, which has a population of around 10 million, is majority Shia but religious beliefs waned under decades of Soviet rule. While President Ilham Aliyev comes from a Sunni background, 49 percent of Azerbaijanis surveyed in 2010 by Gallup said religion was not an important part of daily life.
Last year's war with Armenia stimulated Azeri nationalist sentiment both in terms of affinity with fellow Azaris in Iran, where they make up around 25 percent of the population, and with fellow Turkic peoples stretching from Turkey to the central Asian republics.