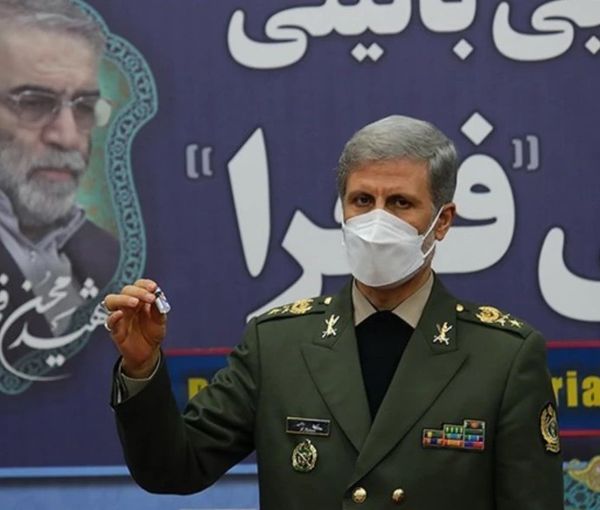 Iran Defense Ministry's Covid Vaccine Production To Be Discontinued
Production of the Fakhravac Covid vaccine, one of eight Iranian inoculations developed by the defense ministry is to stop due to lack of demand as imports grow.
Ahmad Karimi, head of the Fakhravac project, told the Iranian Labour News Agency (ILNA) Tuesday there was a lack of demand for the vaccine, even though 1 million doses had been produced with a first batch ready for use.
Karimi complained that the project had received 10 million euros ($12 million) in advance purchase from the government while other domestic vaccine developers received 40 million each. He added that with the increasing rate of vaccinations in Iran, Fakhavac had struggled like other projects for home-grown vaccines, to recruit volunteers.
"We expected to have between 1,000 and 1,500 volunteers a day, but the number has dropped to around 100," he said. "It has become a challenge because in the third phase of the clinical trial the sample groups need to be large."
The deputy head of the Food and Drug Administration (FDA), Heydar Mohammadi, told Borna news agency Tuesday that the FDA was considering full authorization for third- booster shots of both Fakharavac and Razi Cov Pars, developed by the Razi Vaccine and Serum Research Institute and in a third clinical research phase.
Iran has now fully vaccinated 25 million from a population of 84 million, with 60 million doses of China's Sinopharm making up a majority of 72.6 million (first and second) doses administered. The main domestically produced vaccine, Barakat, accounts for 5.7 million doses.
Fakhravac, produced by the defense ministry's Organization of Defensive Innovation and Research (ODIR), entered the third clinical trial phase after being authorized for emergency usein early September. The defense ministry in September said a factory was being built to produce 1 million doses monthly of Fakhravac, which is named after Mohsen Fakhrizadeh, the nuclear scientist assassinated in November 2020, allegedly by Israel.
Major-General Hossein Salami, commander of the Revolutionary Guards (IRGC), said in August that Noora, a second vaccine being developed by the defense ministry, at the IRGC's Baqiyatallah University of Medical Sciences, was in the second stage of human trials.
Iran's other main vaccine authorized for emergency use, CovIran Barakat, was developed by Barakat Foundation, a charitable body and business group that is an affiliate of the Execution of Imam Khomeini's Order Foundation. The foundation is a charitable-cum-business state entity answerable to the Supreme Leader Ali Khamenei.
CovIran Barakat, failed to meet a delivery target of 50 million doses by the end of September. In a radio interview in August Hossein-Ali Shahriari, the conservative chairman of parliament's health committee, said that awaiting homegrown vaccines had slowed down imports and so the rate of vaccinations.
More than 124,000 have died of Covid in Iran according to official figures, that are deemed to be much less than real numbers, by critics who say the government has under-reported the pandemic toll. The death rate has decreased in October as vaccination increased since August, but some health officials have warned of a sixth wave in the coming weeks.