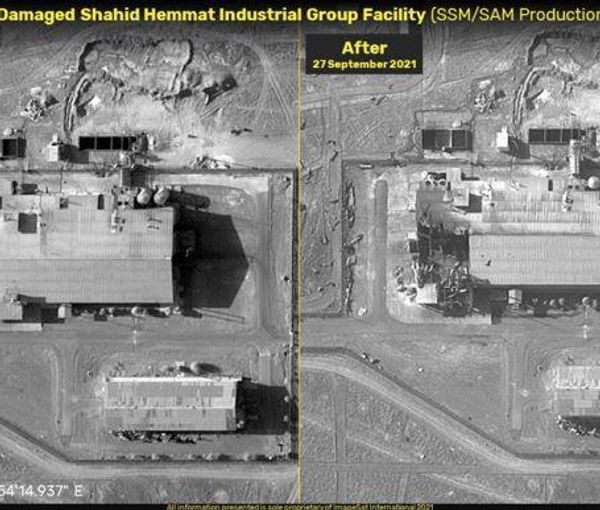 Satellite Images Show Damage At Iran Missile Factory After Possible Attack
ImageSat International Thursday released images of what it said was an Iranian missile factory west of Tehran where a fire killed two workers earlier this week.
In tweets Thursday, the Tel-Aviv-based company claimed an explosion had occurred at the facility of the Shahid Hemmat Industrial Group. Two satellite images dated 22 and 27 September showed extensive damage to a building in the complex.
The Shahid Hemmat Industrial Group (SHIG) is the part of Iran's Aerospace Industries Organization (AIO) responsible for Iran's liquid-fueled ballistic missile program, including the medium-range Shahab-3.
Iran's Revolutionary Guards (IRGC) media relations announced Sunday that firefighters had put out a blaze at a research center in western Tehran, but that two employees had lost their lives and two others had been injured. Two news agencies, Fars and Tasnim, both IRGC-affiliated, initially reported that a fire had broken out at a "self-reliance research center" but later amended to say the fire had occurred in a depot.
The Research and Self-Sufficiency Jihad Organization, to which the news agencies appeared to refer, is responsible for ballistic missile research and development.
A senior US official recently suggested Iran's missile defense should be included in the Vienna talks aimed at reviving Iran's 2015 nuclear agreement with world powers, the JCPOA (Joint Comprehensive Plan of Action). Tehran has insisted that the talks retain the original JCPOA focus, and has ruled out unilateral concessions over missiles outside wider regional security talks.
Since July 2020, Iran's nuclear, military and industrial sites have all faced attacks and sabotage widely attributed to Israel, which has vowed to prevent Iran from developing nuclear weapons and threaten its territory with missiles. Israel is also skeptical about Western attempts to revive the 2015 nuclear agreement, JCPOA, with Iran, which it believes was inadequate to stop Tehran from acquiring nuclear weapons once its restrictions expired.
The Natanz uranium enrichment facility was attacked twice, in July 2020 and April 2021. Last November, Mohsen Fakhrizadeh was the latest Iranian scientist to be killed, by what was possibly a remote-controlled, heavy machine gun.
On November 12, 2011 an explosion at an IRGC missile base in Bidganeh (also Bid Kaneh) 50km west of Tehran killed at least 27 people including Brigadier-General Hassan Tehrani Moghadam. The explosion, felt and heard in some areas of Tehran, was attributed to ammunition transfer.
Questioned in 2011 over Israeli involvement in the blast, Defense Minister Ehud Barak expressed a wish that "there be more like it." Satellite images showed extensive damage to most buildings on the site.