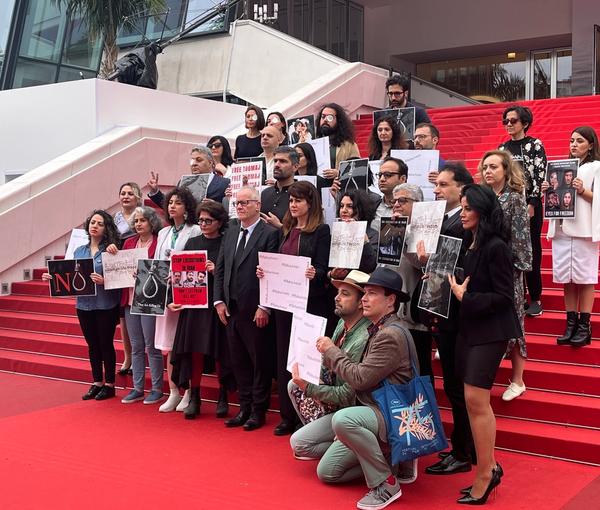 Iranian Artists' Cannes Tribute To Hanged Protesters
Iranian artists at the Cannes Film Festival have held a protest over the Islamic Republic's execution spree.
On the fifth day of the festival, Iranian filmmakers displayed images of three protestors who were recently hanged in Esfahan (Isfahan).
Majid Kazemi, Saeed Yaghoubi and Saleh Mirhashemi were executed on Friday over the death of two IRGC's Basij militia members and a police officer in protests of November last year, in what Persian media have dubbed the 'Esfahan (Isfahan) House' case.
The participants kept silent for a minute to pay respect to the hanged protesters.
Zar Amirabrahimi, a well-known actor, Kaveh Farnam, a producer, Sepideh Farsi and Milad Alami, directors, Asal Bagheri, a researcher, and Sahar Bagheri, one of the managers of the French department of Amazon Company, took part.
They talked about the current conditions of Iranian cinema, censorship, the impact of recent protests on Iranian filmmakers, and the conditions of filmmakers outside Iran to express the untold narratives of Iran in their works.
Referring to the current situation in Iran, the cinematographers also discussed the difficulties of making films in accordance with the current reality in Iran and passing through censorship. They called for the support of the cinema world and events such as the Cannes Festival to consider the plight of Iranian filmmakers.
The 76th Cannes Film Festival began on May 16 and will end on May 27.