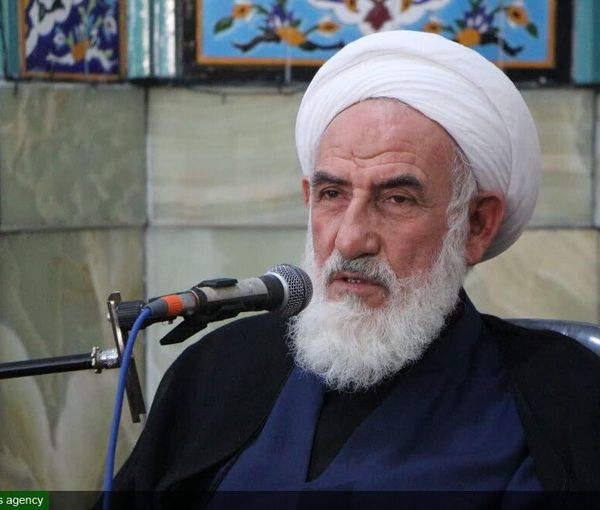 Khamenei's Trusted Cleric Gunned Down In Northern Iran
A former Khamenei aid associated with the mass executions of the 1980s has been assassinated in the northern city of Babolsar.
Ayatollah Abbas-Ali Soleimani, the former representative of the Supreme Leader in Sistan and Baluchistan province and Kashan, was gunned down in Mazandaran province, according to the Hozeh website on Wednesday.
Soleimani's son confirmed his father's death though said he does not know the details of the armed attack yet.
An eyewitness told Hozeh website that the cleric was sitting in a bank when the assailant grabbed the gun of the guard and opened fire. Reports say three others were also injured.
Soleimani's body being carried out of the building where he was killed
The attacker was reportedly arrested by the security forces. The assailant was reportedly one of the bank's guards, identified only as Habibian.
The hardliner cleric was twice a member of Iran's Assembly of Experts. As Friday prayers imam of Babolsar, he allegedly participated in the mass executions in the 1980s.
He wrote in his autobiography that he was appointed the Friday prayer imam of Babolsar so that he could confront opposition groups activities there. During his term, he also supervised the judicial system in Babolsar.
The moment the gunman opens fire
The executions in the 1980s were carried out based on a fatwa by Iran's then-supreme leader, Ruhollah Khomeini, against the MEK which carried out a wave of bombings in Iran and struck an alliance with Saddam Hussein during the 1980-88 war.
Most victims were linked to the MEK but there were also others with links to leftist and secular groups such as Fadaiyan Khalq Organization (FKO) and Tudeh Party as well as some Kurdish groups, such as Komala and the Kurdish Democratic Party of Iran.