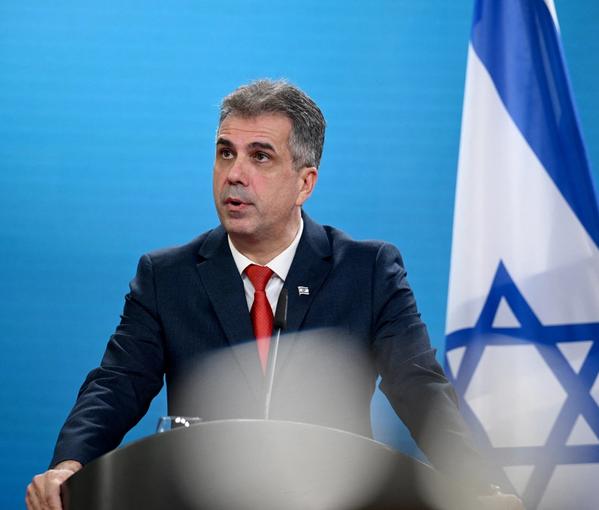 Israel Consolidating Presence Near Iran In Azerbaijan, Turkmenistan
Amid simmering tensions between the Islamic Republic and Israel, Jerusalem has moved to consolidate relations with Iran's neighbors Turkmenistan and Azerbaijan. 
Following the opening of Azerbaijan's embassy in Israel in March, Israeli Foreign Minister Eli Cohen met in Baku with President Ilham Aliyev on Wednesday and discussed common strategic challenges. They also discussed regional security and the fight against terrorism, as well as expanded cooperation. 
"Azerbaijan is a Muslim country, and its strategic location makes the relationship between us of great importance and great potential. Israel and Azerbaijan share the same perception of the Iranian threat. The Iranian ayatollah regime threatens both our regions, finances terrorism and destabilizes the entire Middle East. We must act together to prevent Iran from achieving nuclear capabilities," Cohen said.
Heading a delegation of 30 Israeli companies at the Presidential Palace, Cohen said, "Israel and Azerbaijan are strengthening their political and security alliance. I met with the President of Azerbaijan, Ilham Aliyev, and we talked about the strategic regional challenges we share, chief among them regional security and the fight against terrorism.
"I congratulated the president on his decision to establish an embassy in Israel, the first embassy of a Shiite Muslim nation in the country," Cohen said, adding that the step further strengthened security, as well as the political and economic alliance between the two countries.
Cohen added, "We signed a series of agreements between us and Azerbaijan that will significantly increase the economic potential between the countries."
When Azerbaijan opened its embassy in Israel in March, Cohen hosted his Azeri counterpart, Jeyhun Bayramov. At the time, the embassy opening was the first since Israel and Azerbaijan established relations in 1991.
Israel is one of Azerbaijan's leading arms suppliers. According to
Azeri Foreign Minister Jeyhun Bayramov (Ceyhun Bayramov) (left) and Israeli Foreign Minister Benjamin Netanyahu
the Stockholm International Peace Research Institute, Israel provided 69 percent of Baku's major arms imports in 2016-2020, accounting for 17% of Jerusalem's arms exports over that period.
Cohen flew from Azerbaijan to Turkmenistan Wednesday night, becoming the first Israeli minister to visit the central Asian state in nearly three decades.
Cohen will inaugurate Israel's embassy in the Turkmen capital Ashgabat, a mere 15 miles from Iran's northeast border. The office will be Israel's closest embassy to its archfoe Iran. The move is apparently intended to send a message to Tehran that Israel is a present and growing influence in the region.
Turkmenistan, another Muslim-majority country, established relations with Israel after its declaration of independence in 1991. About a decade ago, Israel opened a temporary embassy there with a temporary structure that has become permanent.
"The inauguration of the embassy building is another sign of the strengthening of relations between Israel and Turkmenistan and marks the thirty years of the establishment of relations between countries," Cohen said.