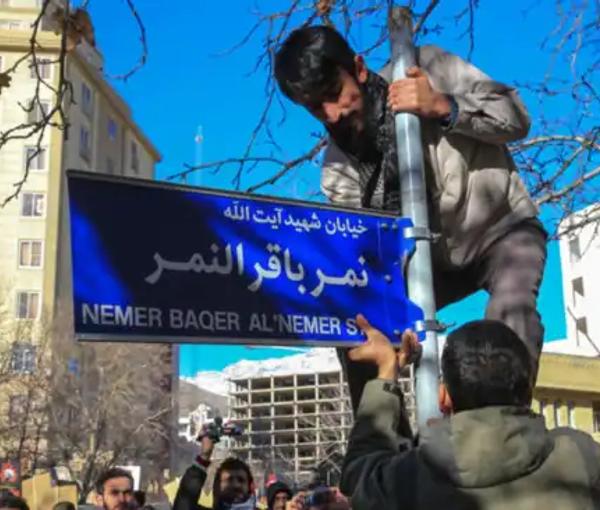 Iran Removes Provocative Street Sign Near Saudi Consulate
Reports say a street sign in Iran's religious city of Mashhad that was named in honor of a Shia cleric executed in Saudi Arabia has been removed.
A journalist reported Saturday that there is no trace of the signpost of the street on which the vacant Saudi Consulate is located. The street was named in honor of Nimr Baqir al-Nimr, a Shia cleric and critic of Saudi government, who was beheaded in 2016.
The move came after a Saudi delegation arrived in Iran on Saturday to discuss the re-opening of embassies.
After his death, pro-regime crowds attacked Saudi Arabia's embassy in Tehran and also its consulate in Mashhad, throwing stones and Molotov cocktails, chanting "death to Al Saud". The move led to Riyadh severing diplomatic relations with Tehran for seven years.
However, it seems the name of "Ayatollah Nimr" has been pulled down following the agreement between Tehran and Riyadh concluded in Beijing in March to reopen embassies.
On January 2, 2016, Saudi Arabia's Ministry of Interior announced in an official statement that Sheikh Nimr Baqir al-Nimr was executed along with 46 other people for terrorism charges and his connection with terrorist groups, mainly Al-Qaeda.
Nimr, who was one of the leaders of the Shiite protests in Saudi Arabia in 2011, had studied in Iran's religious city of Qom.
Supreme Leader Ali Khamenei called the execution of Nimr "a political mistake and a great sin".
Following his comments, the Mashhad city council approved a plan to name a street in honor of Sheikh Nimr.
Tehran City Council also named a street in District 1 "Sheikh Nimr Baqir al-Nimr" in September 2016.