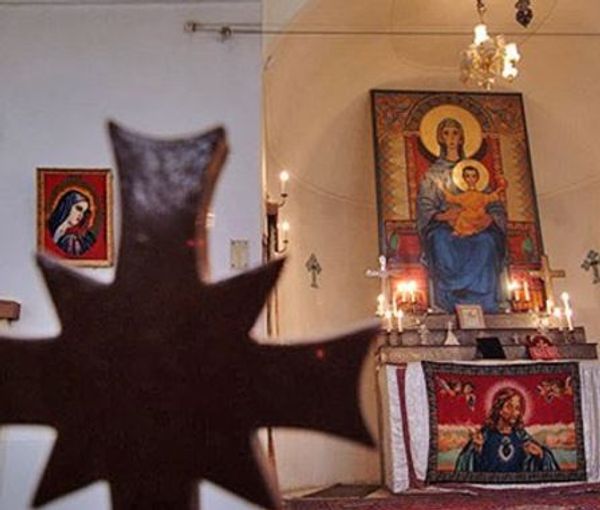 Cleric Says Some Iranian Muslims Converting To Other Religions
A high-ranking seminarian in Qom, Iran's most religious city says there is a strange tendency among members of the Bakhtiari tribe to convert to Zoroastrianism.
Speaking in an interview with Didban Iran [Iran Monitor] website, Ayatollah Seyyed Mohammad-Javad Alavi-Boroujerdi who teaches jurisprudence and principles of Shiism at the Qom Seminary, added that there are home-based churches in Qom for Muslims who have converted to Christianity.
Converting to another religion is forbidden in Islam and Iran's government does not allow or recognize conversion.
Presenting further evidence about Iranian youths abandoning Shiism, Boroujerdi said that some people in Qom are converting to Budhism. "The number of Wahabi Muslims in Iran is also on the rise. They have increased their activities and have their own Friday Prayer congregations," Said Boroujerdi.
He criticized Iranian hardliners for violent methods to make people stick to strict Shiite religious rules and said we cannot divide people into insiders and outsiders and then tell the outsiders to leave the country.
Boroujerdi warned that "some Iranians including the Bakhtiaris are separating from us, and that is a problem." He added: "These are the people who used to be with us. Let us be friends with the people and maintain our communication with them," he advised regime officials.
"I feel responsible for the youngsters who have left us and became Christian. He is a Shite boy and I must bring him back into the fold. I cannot let him go."
Ayatollah Alavi-Boroujerdi, Shiite religious scholar
The scholar added that the 12th Imam of the Shiites went into the occult because a divide occurred among the people after the 11th Imam's death and the people at the time did not embrace the 12th Imam's leadership." Meanwhile, he stressed that "people including state officials who promise the hidden Imam's imminent return are liars. He will emerge only when Allah wants him to emerge from the occult."
Boroujerdi regretted that young clerics who start their career at the seminary in all honesty and modesty, gradually do away with these traits and may only try to return to them when they are too old. He asked: "What have we done to young Shiites who fought a war for us and are still enduring the sanctions?"
Other clerics and commentators have also said that Iranian youth have turned their back to Shiism. Conservative website Alef in Iran wrote last April that "the presence of religion as part of the government has led to a decline in religious beliefs."
The website added, "the experience of the Islamic Republic in Iran showed that political religion, i.e., clerics' presence in political positions and in the government has led to a decline in the people's religious beliefs."
The report further added that Iranians were more religious under the Shah than in the Islamic Republic where clerics are holding political power. Iranian clerics' social status declined further during more than five months of street protests against the government, as people came out to demand a secular government with no clerics in key positions.
Reports on the Qom Seminary's own website indicate that clerics and government officials knew since more than ten years ago that Iranian youths have turned their backs to religion.
Meanwhile, media reports indicate that even Supreme Leader Ali Khamenei knows that Iranians demand a secular government and that the youths are turning away from his religious government.
Nonetheless, some clerics and Muslim scholars maintain that young Iranians are only weary of the version of religion that treats them in a dogmatic and unilateral way. They are fed up with the paradoxes that we feed them. otherwise, they are not against the essence of religion."