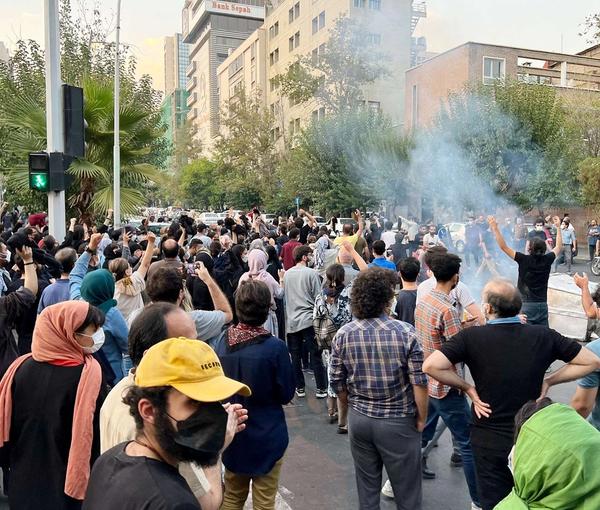 Totalitarianism Alienated Majority Of Iranians, Khatami Aide Declares
A veteran reformist and an aide to former President Mohammad Khatami says the totalitarian regime has alienated over 80 percent of Iranians who no longer want the Islamic Republic.
In a speech Sunday, Javad Emam, the CEO of Khatami's Baran Foundation, which he set up after his presidency came to an end in 2005, argued that the dictatorship's acting against the will of the people, means they "are the ones actually causing regime change".
Speaking at the Veterans Society Party's 4th congress, Emam, the party's secretary general, strongly criticized the government's foreign policy including regional policies which he said "drove Iran's Arab neighbors to Israel's bosom".
Addressing party members, which consist mainly of reformist veterans of the Iran-Iraq War, he said the country's foreign policy had also failed to restore the 2015 nuclear deal which has "resulted in the poverty and misery of Iran and Iranians", and spurred Iran's collaboration with Russia in its war against Ukraine.
Veteran reformist and an aide to former President Mohammad Khatami Javad Emam
Iran has been supplying military drones to Russia since mid-2022, which Moscow has used to target Ukraine's infrastructure. The United States and European powers have strongly warned Tehran to cease its military cooperation with Russia.
Khatami's aide warned the government that "in the near future people will no longer listen to them if it does not listen to the voice of people".
Emam's sharp criticism comes on the heels of unprecedented popular protests and statements by other key reformist figures who have either called for a referendum to change the regime or serious and fundamental changes in Iran's politics and economy.
Khatami said in November that regime change, as protesters demanded on the streets, was "neither possible, nor desirable" due to the inequality of the powers of the government and the people. But he also warned the hardliner establishment over continuing the status quo which he said would only deepen the prospects of "societal collapse". He proposed reforms in the system as the "least costly and most useful" way out of the current quagmire the regime has gotten itself into.
Supreme Leader Ali Khamenei (left) and former President Mohammad Khatami
The Green Movement leader Mir-Hossein Mousavi, who was a presidential candidate in 2009 and has been under house arrest since 2011, however, in a statement on February 4, declared that the Islamic Republic was no longer reformable and fundamental change was required to "save Iran". He proposed elections to appoint a constitutional assembly to write a new constitution and a referendum on the new constitution and its proposed form of government.
A day after Mousavi's statement, Khatami, who was banned from the media and political activity as well as leaving the country years ago, also issued a statement which many saw as his opposition to Mousavi's proposal and his insistence on preserving the Islamic Republic at any cost.
In his speech, Emam criticized Mousavi's views and seemed to be siding with Khatami. He claimed that regime change views are promoted by those who want to cause a rift among reformists and the people.
Khatami and Mousavi both believe in non-violence and are against any foreign interference in Iranians' affairs, he argued.
He added that before these two leaders' statements, his own party had in an open letter to the Supreme Leader Ali Khamenei warned about the dire situation in the country and stressed the necessity of deep reforms and returning to the full implementation of the Constitution before it was too late.