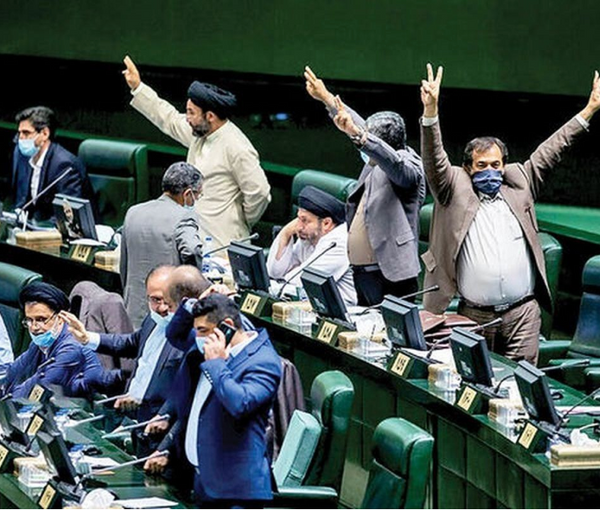 Ultra-Hardliners Push For More Restrictions In Iran
Emboldened by less street protests in January, Iran's ultra-hardliners have been pushing for further restrictions on social freedoms and freedom of expression.
Commenting on the issue of hijab, lawmaker Hossein-Ali Haji-Deligani said in an interview with Entekhab news website recently that he believes the country should have an entity dedicated to "promotion of virtue and prevention of vice" as a completely independent organization to enforce hijab. "Our society and religion do not accept today's kind of [lenient] hijab," he said.
Haji-Deligani who is also a member of the parliament's presidium had said a day earlier that lawmakers, including him, had submitted a new motion to prevent celebrities and those with political, social, military or cultural influence, from "making irrelevant and inexpert statements" on the country's affairs.
"Unrestricted expression of views is not permissible," he said when announcing the motion's submission.
If parliament passes the proposed law, any person of influence could be charged with 'corruption on earth' for making "untrue" remarks on matters requiring official clarification provided that their statements cause "serious disruption of public order, insecurity, or major physical damage to individuals, public or private property, or promote moral corruption.
'Corruption on earth' is punishable by death in Iran's Sharia-based laws.
The law not only will silence even insiders from criticizing a shortcoming but will eliminate whatever limited criticism appears in media. Journalists will be the top targets of such a law. Already dozens are under arrest or have face political charges.
"This means, in simple terms, that no one is allowed express any beliefs, view or even analysis [over a subject] before authorities make an official statement," Fararu website wrote about the controversial motion. "Expressing views [over a matter] is criminal if there are rumors going around town about it, even if the rumors are true but different from the official account."
"The problem is that lawmakers and some decisionmakers think that the events of the past few months resulted from expression of views in social media and the media. They don't have a proper, logical and clear view of the causes of protests and think they can prevent them from happening again if they shut the mouths of critics and experts," Nemat Ahmadi, a prominent lawyer and commentator based in Iran, told Fararu.
"As a matter of fact, I believe that this motion is not meant to prevent rumors and lies. If it turns into law, it should be called 'The Shutting of Mouths Act'," he added.
Haji-Deligani is a member of the parliament's totalitarian Paydari faction which consists of members of the small but very influential Islamic Revolution Endurance Front. The party represents the most extreme right end of the conservative-hardliner spectrum collectively known as Principlists.
Supreme Leader Ali Khamenei has on many occasions eulogized the group's mentor, Ayatollah Mohammad-Taghi Mesbah-Yazdi, who passed away two years ago.
Mesbah-Yazdi famously once said Khamenei's rule was superior to that of the Islamic Revolution's founder Ayatollah Ruhollah Khomeini. He also preached that Khamenei is the representative of the twelfth Shiite Imam Mahdi whose reappearance from occultation will set the day of final judgment in motion.
The faction gained dozens of seats in the current parliament in the 2020 elections with the help of the Khamenei-appointed Guardian Council which disqualified not only reformists but many of Paydari candidate's conservative rivals.
Hossein-Ali Haji-Deligani, a member of the parliament's totalitarian Paydari faction
Conservative politician Mansour Haghighatpour, a former Principlist lawmaker, also criticized Paydari's new attempt to restrict freedom of expression. "The problem is that after the last election a radical, extremist group has taken control of the parliament that does not want to hear [other] voices, views, or criticism. I mean the same group that is controlling the administration," Haghighatpour told Fararu.
He added that this extremist group is responsible for "the majority of costs" that the Islamic Republic is now paying domestically and at the international level.
Hossein Kanaani-Moghadam, another former lawmaker and secretary general of the Principlist Green Party, also criticized Haji-Deligani's recent remarks. "I believe such attempts would not have any outcome other than more corruption, anger, and dissatisfaction in the country."