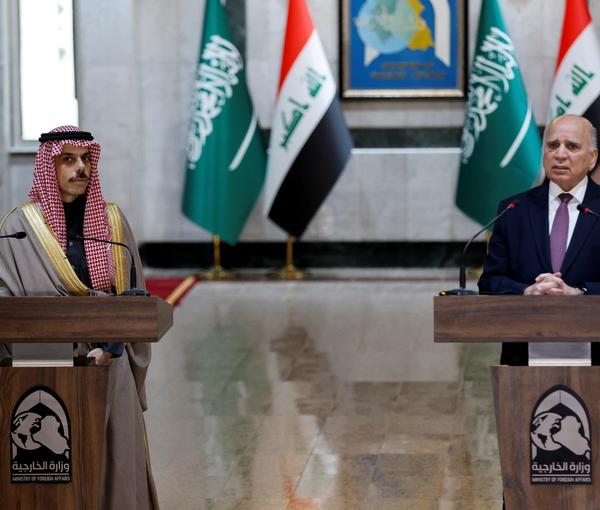 Saudi Arabia, Iraq To Boost Ties To Counter Iran's Influence
Regional and Western countries are moving to build closer cooperation with Iraq as a measure to curb the influence of the Islamic Republic in economy and politics of its neighboring country. 
On Thursday, Saudi Arabia's foreign minister, Prince Faisal bin Farhan al Saud, visited Iraq, affirming that economic relations with Iraq were developing significantly. Bin Farhan made the statement during a joint press conference held in Iraq with the country's Foreign Minister Fuad Hussein.
Hussein said, "security cooperation continues with Saudi Arabia" and added they were "working to reduce tensions in the region," highlighting the depth of relations with Iraq, which he stated had "witnessed great momentum recently."
"We support the Iraqi government's effort to enhance stability," he said, adding that stability was crucial in order for opportunities for prosperity to rise.
Prince Faisal added that economic ties with Iraq have also "greatly improved," noting that "The region cannot prosper without stability." 
Hussein also highlighted relations with Saudi Arabia, saying "security cooperation" is ongoing with Riyadh and added that "[We] are working on easing tensions in the region."
Saudi Arabia's Foreign Minister Prince Faisal bin Farhan Al Saud and Iraqi Foreign Minister Fuad Hussein shake hands, at the Ministry of Foreign Affairs in Baghdad, Iraq February 2, 2023.
Earlier in the week, French President Emmanuel Macron met with Iraq Prime Minister Mohammed Shia Al-Sudani, in which the two signed a set of strategic agreements meant to boost Iraq's economic cooperation with the European country. In the meeting, France and Iraq signed a treaty that seeks to strengthen bilateral relations in anti-corruption, security, renewable energy and culture, the Elysee Palace said on Friday. 
Macron launched the Baghdad Conference for Cooperation and Partnership in 2021, which aims at strengthening regional stability by involving Iraq and enhancing its role. 
Prince Faisal is expected to meet with President Abdul Latif Rashid, Prime Minister Mohammed Shia al-Sudani and Parliament Speaker Mohammed al-Halbous.
"This important visit comes at a time marked by great challenges, so it is essential to talk and discuss these challenges which affect the region as a whole," Hussein said, alongside Prince Faisal.
"We will not achieve these goals without a secure and stable region, and here is where Iraq plays an essential and important role in enhancing this stability. We will work together to advance the stability process in the region through dialogue, promoting common interests, and addressing any disagreements," said the Saudi foreign minister.
Hussein hailed "total cooperation" with Saudi Arabia on oil, particularly within the OPEC cartel. Iraq's foreign minister said Riyadh was ready to back Saudi companies investing in Iraq, and welcomed it. "We hope Iraq will be supplied with electricity, either via the Saudi network or that in the Gulf," he said.
Despite being oil-rich, Iraq suffers from insufficient infrastructure and public services, after decades of conflict and endemic corruption. Baghdad is currently heavily dependent on the Islamic Republic for its electricity and gas, and has sought to diversify its energy sources. Iraq suffers from chronic electricity shortages, especially felt when summer temperatures reach scorching levels of over 50 degrees Celsius. The high temperatures subsequently push citizens to consume very high amounts of power.
Baghdad has taken a role as a mediator between the regional rivals Iran and Saudi Arabia, after diplomatic relations between Riyadh and Tehran froze in 2016. Since April 2021, Iraq has hosted a series of meetings between the two sides, but no talks have been publicly announced since April 2022.