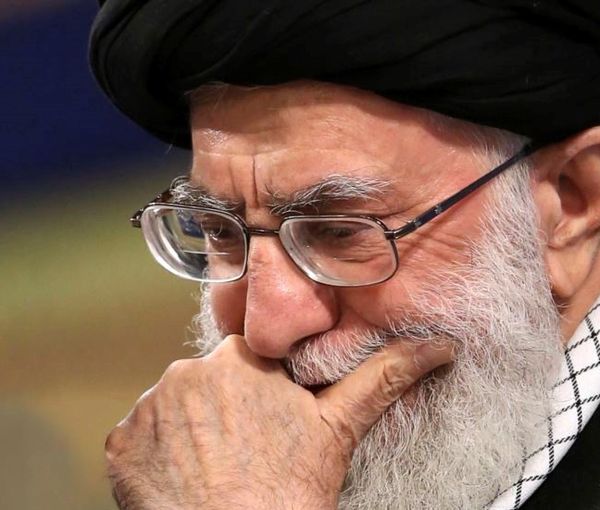 Exclusive - Former Official Calls For Limiting Khamenei's Power, Resuming Ties With US
A former presidential aide in Iran has suggested that Supreme Leader Ali Khamenei's executive powers should be reduced to ensure the survival of the regime.
Iran International received an audio recording from a January 30 meeting where Mohammad Reza Salehi, a logistics chief at the Presidential Office under President Hassan Rouhani, spoke bitterly about the current situation in Iran. The meeting took place between former presidential aides and provincial governors with former Vice President Es'haq Jahangiri.
Salehi argued that Khamenei's supervisory role should be emphasized while his executive powers need to be limited in a bid to control his successor's behavior.
He said that as a result of the uprising in Iran, reformists and moderates have four options before them: Hoping for a foreign military attack; joining the protesters and helping t revolution in Iran; doing nothing and hoping that the regime will implode as a result of increasing financial corruption. The fourth and last option is working hard to bring about real and serious reforms in the structure of the regime by reducing the power of non-elected and non-accountable offices and strengthening the political structure's republican nature and restoring the people's right to determine their fate.
Salehi added that the first three options are dangerous for Iran and Iranians and that reformists should choose the fourth option that is pursuing reforms.
Salehi, who appears to be a committed reformist, in fact made some of the same arguments his peers have made for years, but Khamenei has reacted by mostly banning them from state structures with the support of hardliners and the Revolutionary Guard. However, asking to curtail Khamenei's executive powers is a new demand by a reformist.
Rouhani administration official Mohammad Salehi
Salehi then pointed out that a series of destructive measures have been taken by the government recently including the controversial 'privatization plan' announced by the heads of the three powers of the government. The measure, he said, includes putting a couple of major natural gas refineries (Parsian and Jam) at the disposal of the Imam's Executive Headquarters, a subsidiary holding that operates under the aegis of Khamenei's office.
According to Salehi, the other destructive measures being furthered by the government includes a new legislation to restrict freedom of speech by barring everyone including state officials, political activists and the media from commenting on social, economic, cultural and political affairs before the most senior officials make their definitive comments.
A similar measure, Salehi maintained, was legalizing the practice of giving crude oil instead of money to settle government debts to those who have carried out projects. Meanwhile, Salehi criticized the government's financial plans and said that the budget bill for the next Iranian year starting in late March has been drawn in a way that would make Iranians poorer.
He said: "In the budget bill the government's revenue is supposed to increase by 40 percent while taxes are to rise by 60 percent. This comes while the cash handout to the poorer Iranians will not be increased, and public employees will receive just a 20 percent raise. This will only increase poverty in Iran."
Speaking about the recent protests he said, "What took place was a protest not a riot," as state officials insist. He also made it clear that "Those detained were not tried fairly. Hasty trials led to executions which was tantamount to systematic massacre."
Meanwhile, he revealed that former police chief Hossein Ashtari had suggested to go on TV and apologize for the murder of Mahsa Amini in September and remove a few officers involved in the case to calm popular anger, but he was ordered to mightily confront the protesters.
Salehi then asked Jahangiri to brief Khamenei on the country's current situation and convince him to hold free and fair elections, uphold the people's rights, attach more importance to elected bodies and regulate the President's relations with other powers.
He also suggested that as the next Supreme Leader might oppose holding any referendum, Khamenei should be convinced to agree to hold a set of referenda to omit the word "absolute" from the leader's title. There should also be votes about resuming political ties with the United States, banning military's intervention in political affairs, doing away with the discretionary vetting of presidential and parliamentary election candidates, implementing the nuclear deal (JCPOA) and agreeing to accept the terms of the FATF (Financial Action Task Force, an international watchdog).