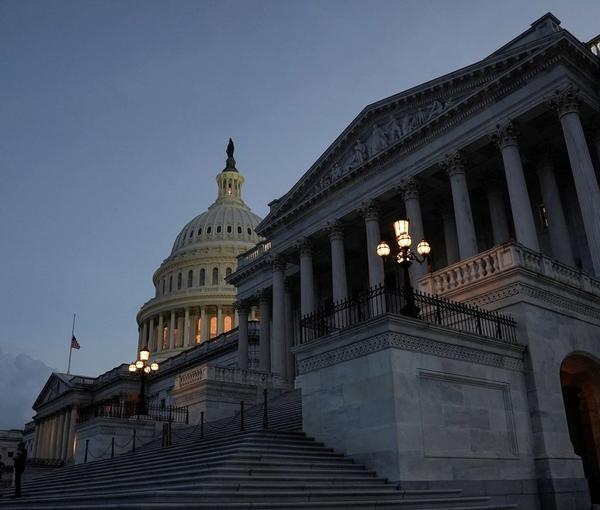 US House Votes 420-1 To Support Iran's Protest Movement
The US House overwhelmingly approved a resolution Wednesday expressing solidarity with Iranian protesters who have risen up against the clerical regime in Tehran.
The 420-1 vote marked the latest round of international condemnation against Iran's government, which has used brutal force to crack down since the September death of 22-year-old Mahsa Amini in 'morality police' custody.
"It is vital that we in the US House of Representatives, a body that is among the greatest symbols of freedom and democracy around the world, stand with one voice to affirm our support for the brave Iranian people," Rep. Claudia Tenney, R-N.Y., said during floor debate Wednesday.
At the same time, exiled Iranian Prince Reza Pahlavi told Sky News in an interview Wednesday that he will soon visit different capitals to lobby for support for the protest movement and demand more pressure on the Islamic Republic. He is the most prominent of several individuals in the diaspora who have come to be seen as representatives of the protest movement.
The move in the US Congress followed a similar vote in the European Parliament last week, in which an overwhelming majority voicing support for the protesters asked the European Union to designate the notorious Revolutionary Guard (IRGC) as a terrorist organization.
The resolution was first introduced in the last Congress by a bipartisan group of lawmakers and was revived earlier this month — reflecting a rare point of consensus. Its passage also came days after the US, Europe and the United Kingdom imposed a series of fresh sanctions on dozens of Iranian officials and organizations, including many affiliated to the IRGC that controls most of the security forces responsible.
The US administration and European allies have adopted a tough posture toward Tehran, demanding an end to human rights violation and freedom for all prisoners. They have also condemned a dangerous move by the Iranian regime of supplying kamikaze drones to Russia that have targeted civilian infrastructure.
The Biden administration that spent 18 months negotiating with the Islamic Republic to revive the 2015 nuclear accord, the JCPOA, has said it is not focused on those talk anymore and instead is following the protests and supporting the Iranian people.
But the administration has not abandoned its strategy of negotiations with the regime to restrict its nuclear program, although any agreement seems remote at this time.
At least 517 protesters have been killed and over 19,200 people have been arrested, according to Human Rights Activists in Iran, a group that has closely monitored the unrest. Iranian authorities have not provided an official count of those killed or detained.
The protests mark one of the biggest challenges to Iran's theocracy since the 1979 revolution — and the reaction from the government has been severe. Security forces have used live ammunition, birdshot, tear gas, and batons to disperse protesters, according to rights groups.
"We want the Iranian people to know that we see you. We know the risk you're taking and the danger that you face," Rep. Gregory Meeks, D-N.Y., ranking chair of the House Foreign Affairs Committee, said on the House floor. "Stay strong."
He added, "Stay strong as freedom will always win over tyranny."