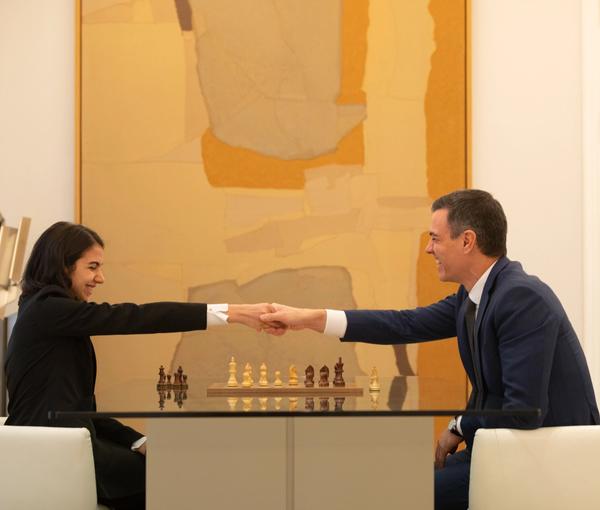 Defecting Iranian Chess Master Meets Spanish Prime Minister
An Iranian chess player, who defected to Spain after she competed without hijab, has met with Spanish Prime Minister Pedro Sanchez in Madrid.
Sarasadat Khademalsharieh arrived in Spain in early January after having made a bold statement in Kazakhstan's capital Almaty, where she had participated in the FIDE World Rapid and Blitz Chess Championships without wearing the compulsory hijab.
"How much I have learned today from a woman who inspires me," Sanchez posted on his Twitter account after hosting Khadem at his official residence Wednesday.
"All my support to women athletes. Your example contributes to a better world," he added.
In footage provided by the prime minister's office, Khadem is seen chatting with Sanchez without wearing a hijab. They later appear to engage in a game of chess.
In the past four years, dozens of Iranian athletes have defected to other countries in objection to Islamic Republic's restrictive policies, including compulsory hijab for women during matches and a ban on competing against Israeli athletes.
Anti-regime protests against clerical rulers have been going on for more than four months when a 22-year-old Kurdish woman, Mahsa Amini, was killed in police custody for wearing "inappropriate attire".
The US-based Human Rights Activists News Agency (HRANA), one of the groups that monitors and publishes daily statistics about the protests, said Tuesday that 525 protesters have been killed from September 17 to January 23, including 71 children.