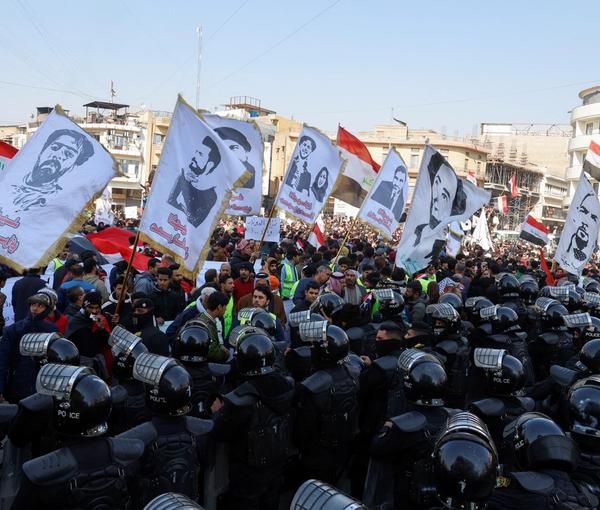 Iraqis Protest As US Sanctions On Iran Weakens The Dinar
The impact of US banking sanctions on Iran has affected neighboring Iraq, weakening its currency and leading to protests against the government.
Hundreds of people demonstrated near central bank headquarters in Baghdad Wednesday to protest at the recent slide of the Iraqi dinar against the dollar that has triggered a rise in prices of imported consumer goods.
Hundreds from different Iraqi regions waved Iraqi flags or carried banners demanding government intervention to stop the dinar's decline to around 1,620 to the greenback from 1,470 in November.
The dinar went into a tailspin against the dollar after the New York Federal Reserve imposed tighter controls on international dollar transactions by commercial Iraqi banks in November to halt the illegal siphoning of dollars to neighboring Iran, which is under tough US sanctions.
Under the curbs that took effect this month, Iraqi banks must use an online platform to reveal their transaction details. But most private banks have not registered on the platform and resorted to informal black markets in Baghdad to buy dollars.
This has created dollar shortages as demand has outstripped supply and accelerated the dinar's descent against the greenback.
"Our demands are clear: government must intervene to stop the decline of dinar value because we're suffering from high prices in local markets," said Asaad Khudhaer, a laborer who came from the southern city of Najaf to attend the protest.
"Stop the neighbors stealing our dollars," one banner read, alluding to Iran.
Prime Minister Mohammed al-Sudani replaced the central bank governor on Monday as he had not taken effective steps to tackle the consequences of the new Fed regulations and their impact on the dinar, government sources told Reuters.