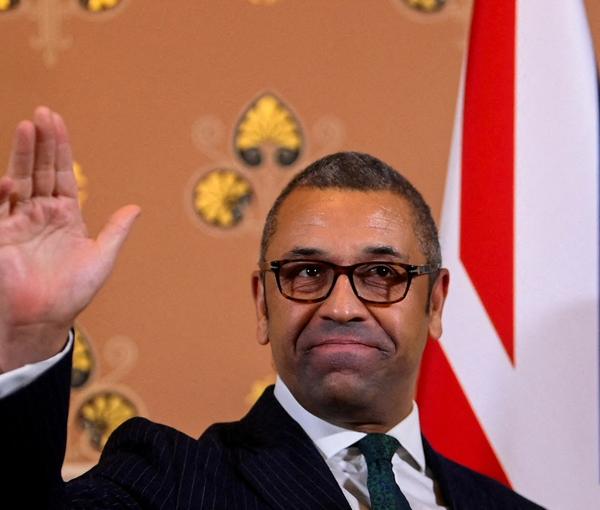 UK Decries Iran's 'Cowardly' Execution, Says World Is Watching
Britain's foreign minister censured the Islamic Republic Monday for luring back British-Iranian national Alireza Akbari and executing him after facing an arbitrary legal process.
Tehran announced on Saturday that it executed the former deputy defense minister, Akbari, after sentencing him to death on charges of spying for Britain's MI6. Before his death, an audio file was leaked where he claimed to have been tortured for 3,500 hours. Akbari said in the tape the regime had forced him to confess to crimes he had not committed.
Foreign Secretary James Cleverly said in parliament, "They (Akbari's family) have shared his ordeal. An ordeal which began just over three years ago when he was lured back to Iran," adding that "He was detained and then subjected to the notorious and arbitrary legal process of the (Iranian) regime." 
In his statements to the House of Commons, he condemned the "cowardly and shameful" execution of Akbari, warning Tehran that "The world is watching you and you will be held to account."
Akbari had been deputy defense minister under the reformist President Mohammad Khatami, from 1997 to 2005. He was an advocate of the Iran nuclear deal known as the JCPOA that was eventually signed in 2015 with world powers.
"Let there be no doubt, he fell victim to the political vendettas of a vicious regime," he pointed out, noting that "His execution was the cowardly and shameful act of a leadership which thinks nothing of using the death penalty as a political tool to silence dissent and settle internal scores."
Cleverly mentioned actions the UK took in reaction to the execution, summoning of Iran's chargé d'affaires to the Foreign Office "to make clear our strength of feeling. Our ambassador in Tehran delivered the same message to a senior Foreign Ministry official." He added that ten other countries have publicly condemned the execution, including France, Germany and the United States, and the European Union. "I am grateful for their support at this time," Cleverly said.
Following the execution, the UK has imposed sanctions on Iran's prosecutor general Mohammad Jafar Montazeri. Cleverly told British lawmakers that Montazari. "His designation is the latest of more than 40 sanctions imposed by the UK on the Iranian regime since October, including on six individuals linked to the revolutionary courts, which have passed egregious sentences against protesters, including the death penalty."
"In addition, I have temporarily recalled from Tehran His Majesty's ambassador, Simon Shercliff, for consultations, and we met and discussed this earlier today. Now we shall consider what further steps we take alongside our allies to counter the escalating threat from Iran. We do not limit ourselves to the steps that I have already announced," Cleverly added.
Expressing solidarity with the brave and dignified people of Iran who demand their rights and freedoms, Cleverly said, "Akbari's execution follows decades of pitiless repression by a ruthless regime." 
"Just how much courage that takes is shown by the appalling fact that more than 500 people have been killed and 18,000 arrested during the recent wave of protests. Instead of listening to the calls for change from within Iran, the regime has resorted to its usual tactic of blaming outsiders and lashing out against its supposed enemies, including by detaining a growing number of foreign nationals for political gain. Today, many European nationals are being held in Iranian prisons on spurious charges, including British dual nationals," he highlighted. 
Following the execution, The Sunday Telegraph said the UK is reconsidering its support for the 2015 nuclear deal known as the JCPOA, dealing another blow to the chances of reviving the accord. Britain has been a key player in the talks on restoring the Obama-era deal, abandoned by former US President Donald Trump.
"During the time we have been dealing with it, the landscape and proposition has completely changed – largely because of the behavior of the Iranian regime," a government source said and enumerated Iran's behavior including military support for Russia, interventions in the Middle East and expanding its nuclear program.
Cleverly is also set to travel to Washington DC on Monday for talks with US Secretary of State Antony Blinken where the two will discuss Iran.
Akbari's execution is a major escalation in tensions between the West and the Islamic Republic, which were already sour over Tehran's crackdown on nationwide antigovernment protests and its military support for Russia's invasion of Ukraine.