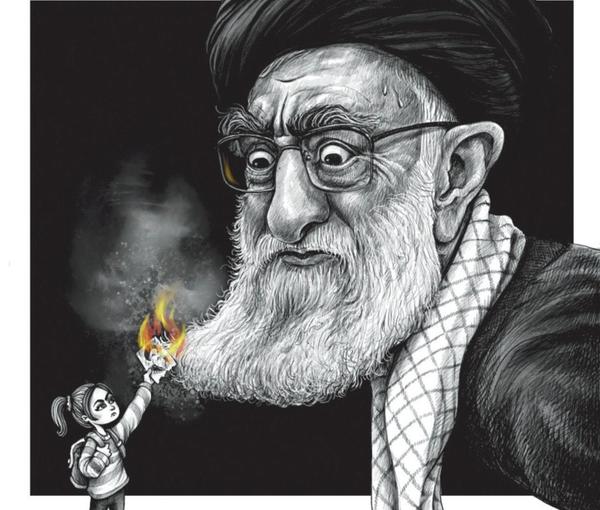 Hezbollah Condemns 'Insulting' Khamenei Cartoons By Charlie Hebdo
The Lebanese Hezbollah has condemned the publication of caricatures by the French satirical magazine Charlie Hebdo depicting Iran's Supreme Leader Ali Khamenei.
This is Hezbollah's first reaction related to popular anti-regime protests in Iran in four months, calling the caricatures as an "ominous" development, Iran International's correspondent reported from Beirut.
Some Lebanese in social media have reacted to Hezbollah's statement, asking why the pro-Islamic Republic militant group never condemned the killing of young Iranians during the protests, but condemns a French magazine exercising its media freedom.
Charlie Hebdo published its caricatures showing Khamenei as a despot and made fun of Iran's ruling clerics. The Islamic Republic quickly condemned the publication and even lodged protests with the French government. The commander of the Revolutionary Guard, Hossein Salami, also threatened Charlie Hebdo that has already been the target of deadly attacks by Muslim extremists in the past.
The leader of the group, Hassan Nasrallah, who is very vocal in condemning Western countries, Israel or some Arab states on various occasions, has so far remained silent over the protests in Iran.
Hezbollah's statement accused Charlie Hebdo of attempting "to weaken the highest religious and Islamic authority in the world." Khamenei's propaganda machine portrays him as "the leader of Muslims", when in fact he represents a part of the Shiite sect, which is a small minority compared with the dominant Sunni majority.
Hezbollah also urged France "to punish" the perpetrators of "the shameless insult to sanctities."