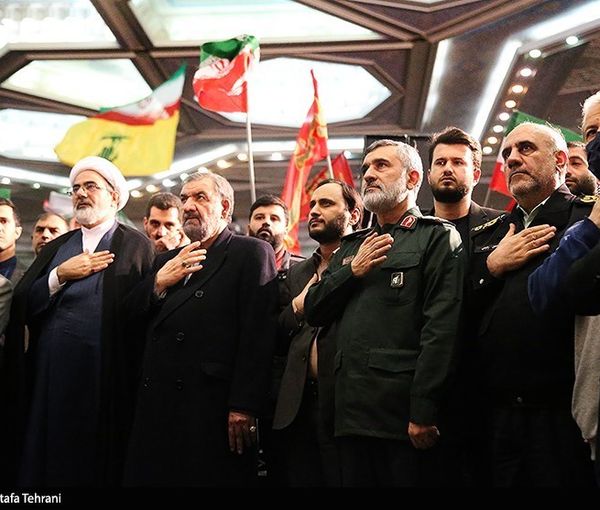 Iran Says Revenge For Soleimani Is Certain As It Marks Anniversary
The Iranian Foreign Ministry says the US killing Qassem Soleimani. former commander of IRGC's Quds Force in 2020 failed in bringing Washington its desired outcome.
In a tweet on Tuesday, the foreign ministry claimed Iran continues "to play a decisive role" in the region and the United States' "footprint in West Asia continues to diminish".
The tweet was published on the eve of the third anniversary of Soleimani's killing by the United States.
On January 3, 2020, the US military, on the order of President Donald Trump, killed Soleimani in a drone strike near Baghdad International Airport, saying that he had been "actively developing plans to attack American diplomats and service members in Iraq and throughout the region."
In a Monday statement, the Iranian regime also claimed that Washington conducted the killing of Soleimani with "false claims and pretexts, including under the guise of counter-terrorism" and in "naked violation of the tenets and principles of international law."
Iranian Foreign Minister Hossein Amir-Abdollahian said on Sunday that nearly 60 US officials have been blacklisted by Tehran for their involvement in the assassination of Soleimani.
Iran's President Ebrahim Raisi and Supreme Leader Ali Khamenei have time and again vowed revenge for the killing of Soleimani.
Raisi in a speech on Tuesday addressed the US saying, "We have not forgotten martyr Soleimani's blood and will never forget. They [Americans] should know that revenge for Soleimani is certain and his killers…will not have any peaceful sleep."
Islamic Republic's President Ebrahim Raisi (center) among other senior officials during the third death anniversary of Ghasem Soleimani on January 3, 2023
At the same time, many Iranian regime opponents and activists on social media celebrated Soleimani's killing anniversary, calling it a "Cutlet Day", after a popular Iranian dish made of ground beef and potatoes. Soleimani's body was so mutilated in the attack that his detractors came up with the comparison to the meat and potato patties.
Some activists said that if Soleimani was alive he would have ordered a more brutal response to the current protests and would have had no reservations about killing thousands of people. They accused him of playing such a role in past protests and engineering Iran's bloody military intervention in Syria against anti-Assad rebels, when hundreds of thousands of people were killed, injured and left homeless.
Protesters in Iran burned many banners erected in Soleimani's honor this week and set fire to several of his statues.
A member of Iranian Revolutionary Guard was charged in August with planning to assassinate John Bolton, the former United States National Security Advisor in what the US Justice Department called "retaliation for the death of Iran's Islamic Qasem Soleimani".
Former Secretary of State Mike Pompeo was also told by the Justice Department that he was a second target of the plot.
Soleimani, who was Iran's top military and intelligence operator outside its borders, was in charge of supporting and organizing militant proxy forces, including the Lebanese Hezbollah and Iraqi Shiite militia groups that have repeatedly attacked US forces.