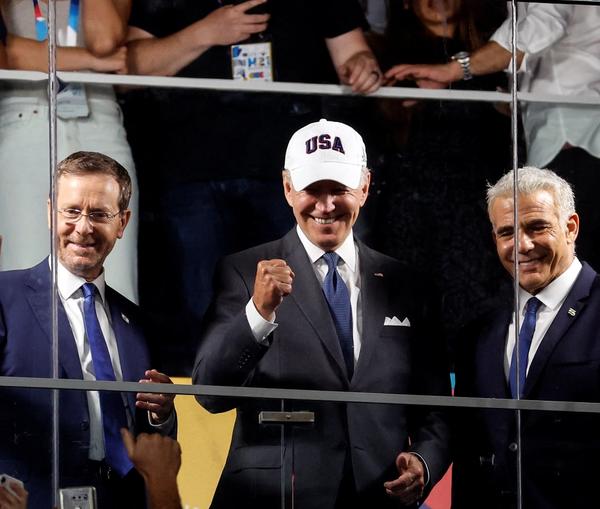 US Says Military Links Against Iran And Russia Rest On 'Shared Values'
US Secretary of State Antony Biden said Friday the administration of President Joe Biden had concentrated on "rebuilding and revitalizing America's alliances."
Speaking at a press briefing, Blinken said the US was working alongside "the many countries that share our fundamental interests and values." In the Middle East he cited Saudi Arabia, Egypt, Bahrain, Morocco, and Israel. Blinken extended "congratulations to Prime Minister [Benjamin] Netanyahu on announcing the formation of a new government."
Netanyahu's relations with the Biden Administration was not as close as his friendship with former President Donald Trump and tension with Palestinians could spike because of the influence of religious parties in his government.
"Nato has never been stronger or more united," Blinken said. "We doubled the number of battlegroups along Nato's eastern flank…the Russian war machine is in dire straits."
Both Iran and Russia, Blinken said, shunned diplomatic solutions. "We have to see some meaningful evidence that Russia is prepared to actually negotiate and negotiate," he said.
Blinken acknowledged Iran had abided by its commitments under the 2015 Iran nuclear agreement, the JCPOA (Joint Comprehensive Plan of Action), until the US in 2018 left the JCPOA. But he attributed the failure of talks aimed at reviving the JCPOA solely to Iran not being "willing or able to do what's necessary."
Secretary of State Antony Blinken with US regional allies during a summit in March 2022
With growing talk in Washington and Tel Aviv of a 'military option' against Iran, Blinken noted the challenges the US faced in downsizing its Middle Eastern military presence.
Marginal events, significant developments
David Barnea, head of Mossad, at the Israel's intelligence agency awards Thursday, attacked the 2015 Iran nuclear agreement as "absurd" and looked forward to a government in Tehran that was as close to Israel as was the Pahlavi Shah before the 1979 Revolution.
A review of "significant regional developments…including the current situation in Iran" was the center of Friday's virtual meeting between US National Security Advisor Jake Sullivan with Israeli National Security Advisor Eyal Hulata, according to a White House statement. Given their "shared commitment to countering Iran's threats to the region," the officials "discussed the broad array of economic sanctions imposed in recent months against Iran" and "reviewed ongoing cooperation and exercises between the US military and Israel Defense Forces."
Gabi Portnoy, an Israeli cybersecurity official, dismissed as a "marginal event" the hacking of Israeli security footage of a bombing in Jerusalem November – attributed to an Iranian hacktivist group 'Moses Staff.' In remarks reported by the Times of Israel Friday, Portnoy said Israel security agencies "didn't do the minimum required."
Artificial intelligence, unmanned vessels
In a press briefing Thursday, General Michael Kurilla, Commander of the US Central Command - which covers the Middle East and which has included Israel for a year – said adversaries would be combatted both by "values-based relationships" and the military use of artificial intelligence, including "unmanned systems...[like 100 naval] surface vessels and undersea vessels."
The US had a "very strong military-to-military relationship" with Saudi Arabia, Kurilla said, exemplified by his discussion that morning with General Fayyad Al-Ruwaili, the Saudi chief of staff. Egypt, Kurilla noted, had a "large, modern, and powerful military" due in part to US training and equipping over 30 years.
"We've got to cultivate deep, abiding partnerships that can serve as a hedge against threats in the region while deterring Iran from its worst, most destructive behavior," the CENTCOM commander said, as Tehran continued "to violate [US] sanctions," and to "undermine regional security and stability through militia groups, ballistic missile capabilities, UAVs [unmanned aerial vehicles, or drones], and routine threats to international waterway."