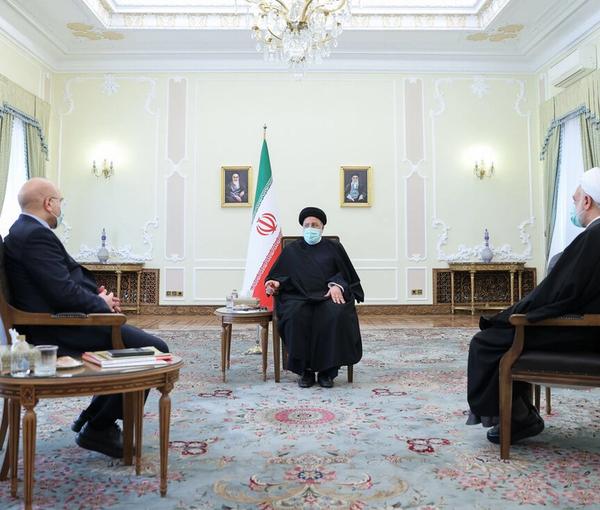 Into Fourth Month Of Unrest, Tehran Accuses 'Enemies' Of Sedition
Iran's president continues to reiterate Supreme Leader's claim that dissent is "sedition by enemies," three months after "Woman, Life, Freedom" protests began.
"Enemies thought they could play the Iranian people, like the people of other countries, with false and grandiose slogans. They thought they could deceive people with the word 'freedom' and believed people would trust them if they spoke of 'life'," President Ebrahim Raisi told a hand-picked audience in Nahbandan, a small town of around 50,000 in South Khorasan Province, during a visit on Friday.
The slogan has turned into the signature motto of the protests after a young woman, Mahsa Amini died in the custody of morality police in September. She was arrested for 'improper hijab.'
Raisi also told the United States and other western countries "to open their eyes" and understand that people are determined not to give in despite "problems caused by sanctions, threats, enmity and vindictiveness" and leave the resolution of problems to their own government. "Do you believe people our dear youth and students will be deceived by your words?" he asked while insisting, like Supreme Leader Ali Khamenei, that the "enemies miscalculated the situation as in previous seditions [they stirred up]."
Iran's aging authoritarian ruler Khamenei prophesied in a speech November 19that the protests would end soon because, he claimed, organizers of "riots" failed to mobilize the people.
Khamenei has always referred to past and current protests as "riots" incited by "enemies" and accused protesters of "sedition". In his speech he also claimed that "the organizers" of the protests, that are foreign powers he insisted, "failed to bring the people to the scene" so they were trying to "exhaust" the authorities, but they were wrong "because these mischiefs make the people hate them more."
In his speech Khamenei also made no mention of the 400 civilian victims of government violence until then, but accused "rioters" of killing government forces, which he claimed would "anger the nation."
The number of protesters killed by security forces has now risen to nearly 500 and two young protesters have been executed in an apparent attempt to instill fear among protesters, but an end to protests is nowhere near in sight.
Despite denial of the seriousness of the current protests, authorities including Khamenei seem to be extremely wary of the situation. A secret report by IRGC's media arm, Fars News Agency, which was leaked by hackers in late November, quoted Khamenei as saying protests would not end anytime soon while blaming others for failing to contain the situation including their failures in the "media war" against protesters.
Although there has been a drop in the number of protesters on the streets in the past two weeks, there are still plenty of calls on social media to protest, and according to Mark Pyruz, a military history image analyst, an uptick in nightly arson attacks by individuals and small teams who target municipal banners, monuments, Basij militia and government offices, seminary sites, and local official residences.
The uptick somehow is reflected in the increased calls on social media for "honorable sabotage" against government targets in the past few days. There have also been calls for formation of small independently acting saboteur groups and naming them after Mohsen Shekari, the first protester to be executed by the government last week.