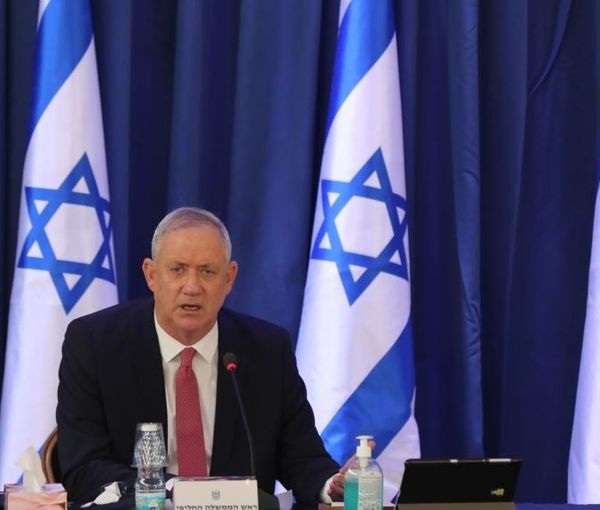 Israel Defense Minister Says Well-Prepared For Bombing Iran
Outgoing Defense Minister Benny Gantz has trumpeted the prospect of an Israeli military attack on Iran's expanding nuclear facilities.
Gantz told a press briefing Wednesday that Israel had prepared "long-term processes I don't want to elaborate on." Gantz claimed the last time Israel was so ready for striking Iran was when he was chief of staff in 2012 and then prime minister Benjamin Netanyahu rejected the option.
With Netanyahu set to return to office after November 1 parliamentary elections, Gantz said he expected Likud leaders would now "act with judgment." The outgoing government led by Naftali Bennett and Yair Lapid has since taking office in June 2021 argued Netanyahu had left Israel ill-prepared for an attack on Iran.
Israel's leaders have all criticized efforts to revive the 2015 Iran nuclear agreement, which restricted Tehran's atomic program until the United States abandoned it in 2018. A series of killings in Iran of nuclear scientists and explosions at atomic facilities have been widely attributed to Israel.
Israel was responsible, the Wall Street Journal reported Wednesday, for air strikes near Abu Kamal, Deir Ezzor province, eastern Syria, Tuesday/Wednesday night targeting a convoy suspected of carrying Iranian weapons. At least 14 people were killed, according to the Syrian Observatory for Human Rights.
Iraqi officials and Iranian media have said the tanker convoy was carrying fuel sent by Iran to Lebanon, a long journey. The Journal cited an Iraqi border official that Iran sends one or two convoys a month to help with Lebanon's chronic power shortages and that Tuesday morning, a convoy of 22 vehicles had been in the Iraqi border town of al-Qaim, waiting to cross.
'Trucks loaded with weapons and oil..'
Since retaken 2017 by the Syrian army with Russian air support from the Islamic State (ISIS) group, Abu Kamal, also known as Al-Bokamal and 4km from the Iraqi border, has been a shipment hub used by Iraqi militia allied to Iran. The border crossing to Al-Qaim, in Anbar province, reopened 2019.
Iranian state television attributed Tuesday night's attack to a United States drone. The Syrian Observatory for Human rights (SOHR) said US aircraft had been flying low in the vicinity, but a spokesman for the US military said its forces had not been involved.
SOHR said aircraft had hit "trucks loaded with weapons and oil tanks of Iranian-backed militias in the customs square in Al-Hari and the military gate in Al-Bokamal countryside," and a separate "military site of Iranian-backed militias near the area."
SOHR said of at least 14 dead, most were "Iranian-backed militiamen," and that due to serious injuries the toll was likely to rise. Israel had carried out frequent air strikes in Syria it says have disrupted arms supplies to the Lebanese group Hezbollah. SOHR reported Thursday heightened security among Hezbollah fighters near the Syrian border town of Dimas, Rif Dimashq governorate, south-west Syria adjoining Lebanon.
Violence in Syria continued this week with Russian jets striking caves and dens held by Isis fighters in Al-Rusafah desert, Al-Raqqah governorate. SOHR reported Thursday Syrian army firing rockets in the 'Putin-Erdogan area," the supposedly de-escalated region from the Latakia mountains to Aleppo's suburbs, while Turkish and Kurdish forces traded shellfire in Aleppo governorate.